Last week, Augusta's chief tourism agency won a regional award for best marketing campaign in its budget category. The agency receives funding from monies charged to visitors of dozens of local hotels and motels. It's known as the hotel/motel tax.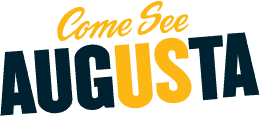 Destination Augusta received the Shining Example Award for its Come See Augusta campaign from the Southeast Tourism Society, which covers 13 states and the District of Columbia, on Wednesday, Sept. 29 in Spartanburg. The category was for budgets between $100,000 and $499,000. "Obviously, we were very excited," says Lindsay Fruchtl, Vice President of Marketing and Communications. "To win best marketing campaign out of all those states is pretty remarkable." Fruchtl says Destination Augusta began working on the campaign in Jan. 2020 and launched it several months later in late August or early September.
After months of research, including sending out numerous surveys, the staff collaborated with Wier/Stewart, a local advertising and marketing firm, to create a visual campaign. "They've got a lot of great, creative minds over there," she states. Once Wier/Stewart presented its final product to the organization, Destination Augusta conducted several virtual listening sessions to generate local feedback. "The response was overwhelmingly positive," Fruchtl states. Come See Augusta, which features local residents sharing what they love about the city, incorporates several key selling points, such as ease and accessibility; friendliness; and authentic, undiscovered experiences. "Our residents are really our greatest ambassadors," she explains. These locals have created their own itineraries for Augusta visitors focusing on various categories, such as history, nature, food, and family-friendly activities. The organization has also launched extensive social media and billboard marketing campaigns.
She says the campaign has been highly effective among both local residents and tourists. In 2020, Fruchtl states about 115,000 people visited their website. By the end of Aug. 2021, 74,000 had already visited the site this year. While she's honored the campaign and Destination Augusta have been recognized by the tourism industry, "It's not about us; it's about the city," Fruchtl adds.
For more information, check out visitaugusta.com.