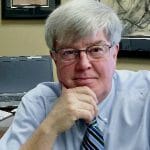 Don MacNeil is the former Marketing Director of Windsor Jewelers and long-time on-air radio professional.
Is it just me, or…
Marketing and Your Brain
Don't you hate it when something you took as gospel for a lifetime turns out not to be true? Who knew that the old chestnut of right-brain, (creative) left-brain (accountant type with pocket protector) had been discredited in this century? There just seem to be folks among us determined to take the fun out of everything.
And it was such a comforting theory, too. I'm cool, you're a geek. What's not to embrace?
Logical, detail-oriented and analytical? That was supposed to be left-brained behavior. Creative, thoughtful and subjective? You're a right-brainer, or so the assumption went.
Research findings from neuroscientists at the University of Utah found no evidence within brain scans that some people are right-brained or left-brained. In short, it's about personality traits rather than the cerebral equivalent of your being born right-handed or left- handed.
Still, to make a point here in a way that keeps it simple, I'm going to hang on to those now discredited terms.
In a perfect world your marketing person is a blend of both Picasso and Einstein. Or, if you're a marketing firm, you need at least one of each.
That said, beware of an Einstein's impulse to take a simple idea and make into a morass of pompous gobbledygook. For example: (and promise to stick with it)
The effect of the congruity between the involvement types of advertising commercial and a television program on the effectiveness of the commercial was studied. Participants (N = 103) viewed either a cognitive or an affective commercial for a product, which was embedded in either a cognitive or an affective television program. The results showed that the effects of the congruence influence the impact on memory. Free recall and cued recall were significantly influenced by the program-commercial congruity. Free recall and cued recall were significantly higher for the cognitively involving commercial in the cognitively involving program context than in the affectively involving program context.
Right-brainers roll their eyes at this. Freely translated from doctoral-thesis-speak, the writer is confirming – after much research and grant funding – that a tire commercial placed in a NASCAR telecast will trigger greater sales than had it been inserted into a Lifetime Channel film. Lesson? Confine your left-brainers to crunching media rate cards and keeping the books, and put distance between them and you're Picassos.
There remains one last aspect to this that, on its face, challenges the right-brain, left-brain debunkers: can you teach your brain to be one or the other regardless of personality? My own experience suggests, yes.
The brain is a muscle, and like any muscle, if worked hard every day, it strengthens and rises to the challenge at hand. I was in no way "creative" until forced by job description to be so on a daily basis. It's the same way with comedians. They so train their brains to convert observation into one-liners that they often impulsively say things that get them into trouble. Brains, you see, become so addicted to the joy of their inventions they can't resist showing them off.
So yes, that the whole left-brain, right-brain explanation of things has been shot down surely takes the ease and fun out of characterizing human performance that way, but to me there's just enough gray area left to give some of us an excuse to keep on using it.