With seven months in office under his belt, Augusta Mayor, Garnett Johnson looked ahead to what the city needs in the future.
Speaking to a meeting of the Augusta Exchange Club, Johnson said figures show the city has grown by just 3%, while surrounding communities are growing faster. He said the days of calling the city "Disgusta" must end and it is time to grow community confidence.
"We need to grow our economic development opportunities. We need to grow our tax base, we need to create more houses, more businesses, and more opportunities for those that live here," he said.

Johnson said one thing that will help Augusta grow is the recent designation as one of five cities "hub cities" by the Biden Administration as part of the Investing in America agenda.
The goal of the program is to train workers and connect them to jobs. In addition to Augusta, Baltimore, Md., Columbus, Ohio, Phoenix, Ariz. and Pittsburgh, Pa. will be part of the regional push to ensure a skilled and diverse workforce.
"A lot of people say, 'I didn't vote for Biden," said Johnson. "This needs to be a nonpartisan effort when it comes to Augusta. The Biden administration is interested in how we can create high-paying jobs for those who are graduating from high school and technical colleges. For those in our community, in order to create opportunities, to have the confidence that when they graduate, they'll have a job, a high paying job and want to live here."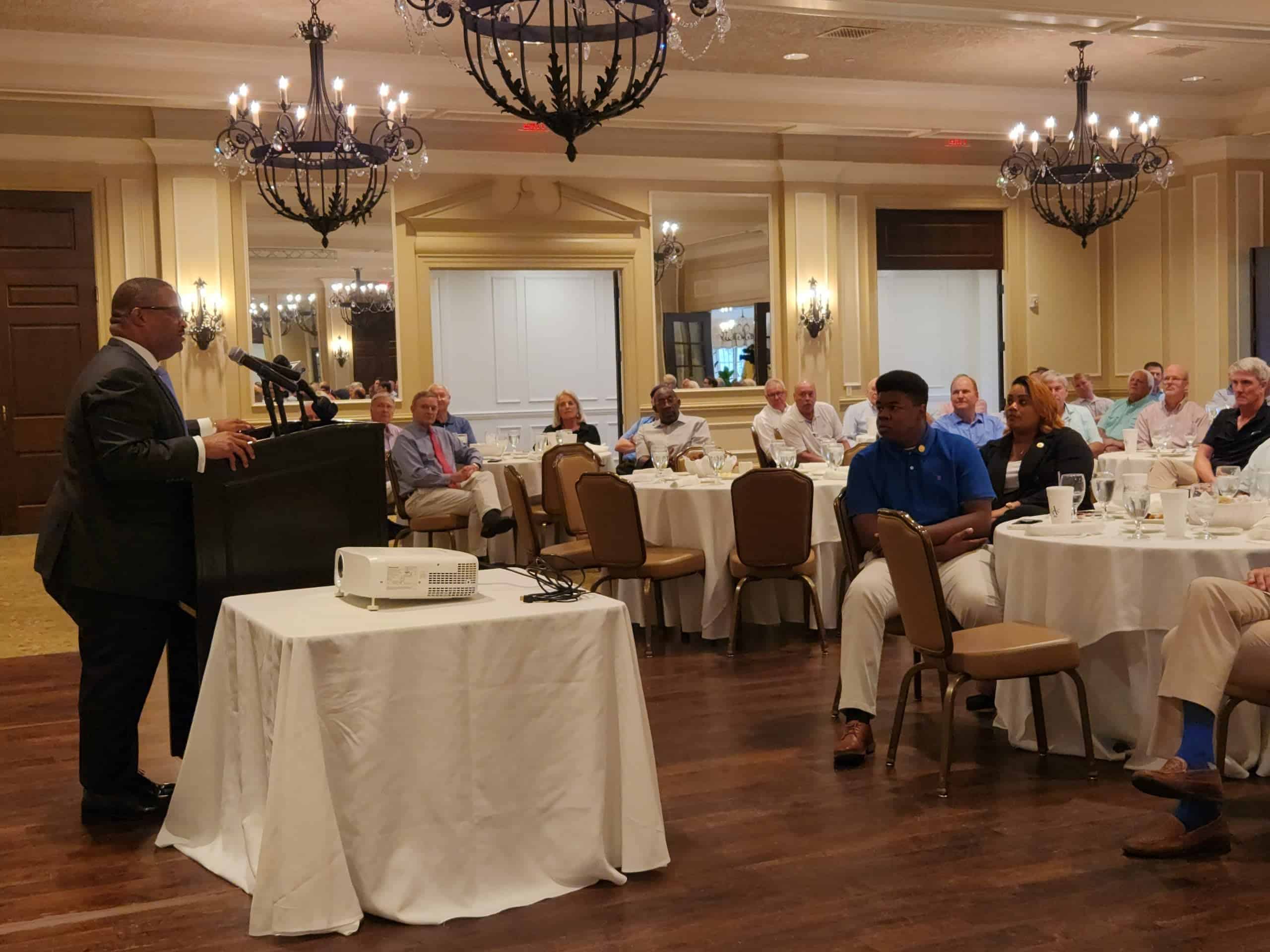 The mayor also spoke about the regional connections he has built with Columbia County and Aiken County, especially with Augusta and Aiken Technical College. He said those partnerships are vital to move the area forward as a whole.
"We realized that for those who are not aspiring for a four-year degree, both Aiken Tech and Augusta Tech do a phenomenal job not only with their programming, but their degree offering," he explained. "Because I believe strongly that you don't necessarily have to obtain a four-year degree. Sometimes, people just want to enter the workforce and want to be able to achieve a high-paying job. This region offers many highly skilled, high-paying jobs that are out there. And it's our job to communicate to provide training opportunities for those citizens of Augusta-Richmond County."
Johnson said there are already signs of growth in what the future can hold, particularly in the downtown area.
"I'm excited about the economic developments that are occurring in our city, especially in our downtown business corridor. We got apartments that are coming online market rate apartment, people are interested in making investments in the gospel, but I think there needs to be more," he said.
Johnson wrapped up his remarks by asking attendees for their help. He said he cannot do it alone.
"It's time to put race aside. It's time to put politics aside. It's time to put these cliques aside, in these groups and these factions. Let's get Augusta winning first," he said.