Dr. Rick Franza, Dean of the Hull College of Business, discusses a different, timely business topic each Monday in this column. This week, he considers what local businesses can learn from The Masters business model. The interview has been edited for clarity and impact.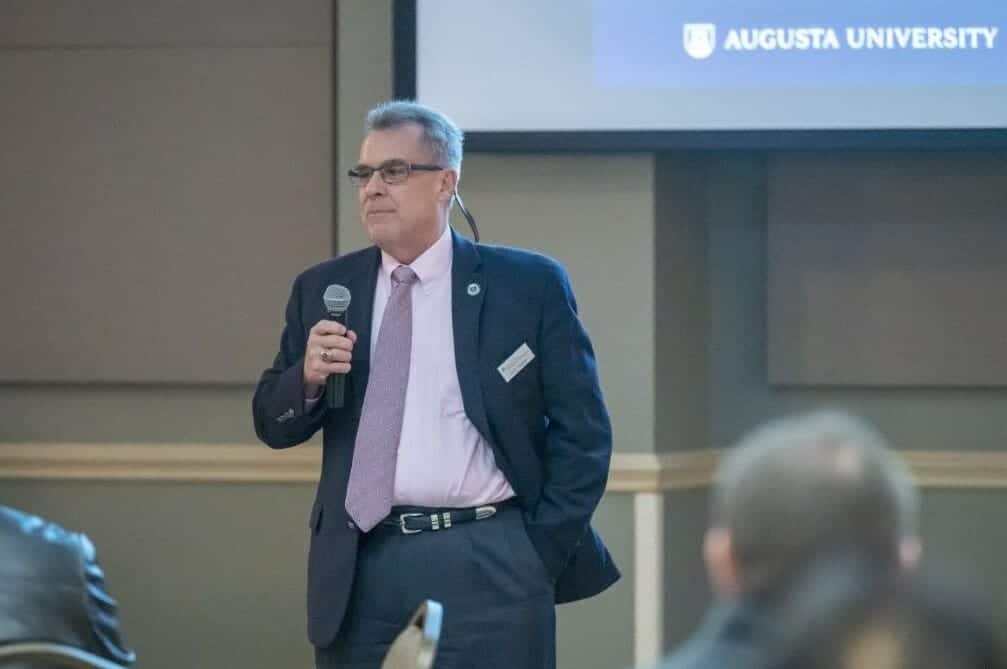 ABD: Anyone who has attended an event at Augusta National during Masters Week knows it's an amazing experience. What are some things The Masters does well?
Rick: What we talk about in companies are the front room that faces the customer and the back room where things have to be run efficiently. I've found that The Masters runs both the front room and the back room well.
In the front room, they're very concerned about the interaction with customers in the pro shop, in concessions, and even in the restrooms. The restrooms are run by friendly people to get people through efficiently. They do customer service really well.
In the back room, you can't see a lot of it because they've gone underground in some areas. They have to have a lot of kitchens. Obviously, they have a good understanding of the demand for certain items, which is important to any business.
ABD: You mentioned efficiency. How does that help with the large crowds in attendance?
Rick: I was on the course Tuesday when the weather postponement took place. They started getting people off the course an hour before the weather came in. It didn't feel forced. They knew they had some time so they were getting people off in a measured way. That reduced any issue of safety problems. If they'd cut it too close, there would have been the risk of a stampede and people getting injured. That obviously, takes communication in a lot of different ways.
ABD: Making a profit is the goal of any business, but The Masters still has the ridiculously low concessions prices from 50 years ago, and the ticket prices are actually less than some other golf events. How does that fit into their business model?
Rick: Tradition is part of it. They're very big on their brand. Tradition and excellence are the hallmarks of their brand. The prices give you a traditional feel plus you're not getting gouged. People would pay more than they're charging.
They're still holding to their principles of no cell phones. It lets people be engaged in golf and interact with each other. It's almost turning back the clock in that they have respect for people.
ABD: Yet there was recently a controversy in which podcaster, Dude Perfect took Bryson DeChambeau and some others to Amen Corner to "play" it with hockey sticks, basketballs, and any sports equipment except golf clubs and balls. It had the blessing of Augusta National. That seems to be a break in tradition.
Rick: They looked at it as a way of growing the game of golf, of making it appealing to younger markets. That's a real sea change for them, from where everything is all buttoned up, and then they let these guys do that. It showed Augusta National's appreciation of the need for their tournament and for golf to attract younger people. And it showed that you can't be trapped in the Stone Age.
ABD: So what can even a small Mom-and-Pop shop learn about doing business from the model of The Masters?
Rick: I think there are four things:
Be true to your brand. Your loyal customers are coming to you because of that.
Adapt to your markets. The Dude Perfect event is a perfect example that you need to make sure you keep growing. Understand where your growth is and make accommodations to that without undermining your brand.
For people in the service industry, understand that while you have to run your backroom efficiently, you have to concentrate on your front room where you interact with customers. Be focused on the experience of the customer. You might want to spend a little extra on the people you hire to interact with your customers; they're your "face."
Reinvest in your community. Augusta National and The Masters have done that for years, but they've done it under the radar until recently. But it doesn't have to be of that magnitude – it can be something like sponsoring uniforms for a Little League team. I remember ABC Deli was one of the sponsors when I was in Little League. We wouldn't have been able to afford jerseys if not for them.