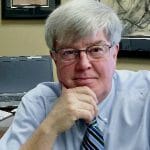 Don MacNeil is the former Marketing Director of Windsor Jewelers and long-time on-air radio professional.
Is it just me, or…
Unconventional Thinking
More than once I've written, "Conventional thinking can kill you." Of course, I wasn't being literal. I was making the point that conventional thinking not only threatens your being exceptional at the moment, but over time it can slowly hobble your career and your quality of life.
Confederate General Robert E. Lee is universally conceded to be one of history's great, thinking-out-of-the-box military strategists, yet one fateful July afternoon, he lapsed into 1860's conventional military thinking and sent 12,000 men across three-quarters of a mile of an open field with disastrous results.
Conventional thinking is the so-called tried and true, the safe, the predictable. In marketing, it all but assures that your ads will fade into similarity with the rest of your industry…unless you refuse to let it happen.
Vital to setting this in motion is the giving of enthusiastic permission to whoever invents your marketing themes and strategies to venture into the unknown. Brace yourself for an outpouring of cringe-worthy work, but it's worth the gamble if there's a magic moment in there somewhere that can be built upon.
Then, consider adding this exercise. After reading about how a few of our smarter national corporations would leapfrog existing technology and the competition by secretly forming "Skunk Works" research and development groups within their walls, I thought about how this could be adapted to the marketing of the company I was with.
Skunk Works grew out of a few CEOs' certainties that their brightest new product developers had been drawn into a kind of day-to-day conventional thinking funk. They reasoned that if a few of these individuals could be pulled off the line and quietly sequestered in a far corner of the company and handed a clean sheet of paper, magical things might happen. Often, they did.
So at my workplace, I'd set aside a few hours every other week and, together with my graphic designer, just talk.
One particular October, in search of a Christmas ad campaign, we agreed in one of these chats that a Windsor Jewelers' green box was, in many homes, the headliner gift saved for the very end of gift exchanging. That triggered a recollection of Kodak's mega-successful 1970's holiday ad campaign, "Open Me First," which planted the idea that when gift exchanging begins, the way to assure the morning's excitement will be preserved forever was by opening the Kodak camera first.
Bam. Windsor's "Open Me Last" campaign was born.
But let's get real here. Not all of us come naturally to unconventional thinking. Announcing, the School Days Indicator.
If your school years were a reasonably smooth glide path, then the "norm" has worked for you for a lifetime. Why would your brain teach itself to invent alternatives?
If, however, scholastics were more of a prison sentence than a necessary undertaking, you've probably swum against the tide in other endeavors, too. For me, an early indicator was that, while most of my classmates dressed up for the first day of school, I refused to celebrate what I saw as Day One of a death march.
So this becomes where you put your self-awareness to work. If the answer isn't you, find someone in your orbit with a positive, can-do personality who occasionally let's rip with a funny, weird, or obscure reference in popular culture. This is a broad-horizon thinker. Have a chat.
Do you enjoy and benefit from ABD's business news? If so, CLICK HERE to find out ways you can help ABD achieve and expand our mission!