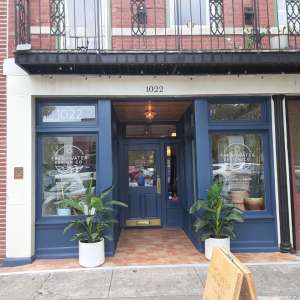 Brianne Martin and Danielle Harmadi – a pair of sisters originally from Wisconsin – recently launched their own business in downtown Augusta.
Martin and Harmadi (see photo above) opened Freshwater Design Co. – located at 1022 Broad St. – on Thursday, Aug. 5. Freshwater sells a variety of handcrafted leather and acrylic jewelry and accessories, such as bracelets, keychains, and earrings, as well as drinkware, pennants, and wall art. "We are a studio and shop," says Martin. In the studio, the sisters and their staff create these products for their wholesale business, which ships them to more than 450 retail shops throughout the U.S. and Canada. Harmadi says they also sell their items online. "It's three businesses in one," she states.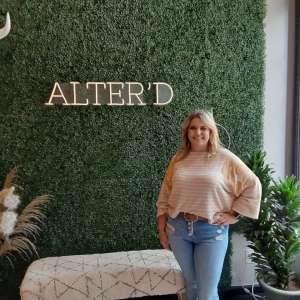 Jennifer Delaney just opened Alter'D Salon and Spa – located at 720 Broad St. between the Events on Broad Bistro and the Ice Lounge and Restaurant – on Tuesday, Aug. 31. The space was previously occupied by Joanie Lamb Hair Salon. Alter'D offers many services, including massage, permanent makeup, and waxing, as well as hairstyling and nails. The business also sells clothing. Delaney explains she wanted to create a one-stop shop for her customers in the approximately 3,200-square-foot building. While many business owners are nervous about launching a new business, she says that wasn't the case for her. "I knew that this is what downtown needed," Delaney states.
Martin and Harmadi enjoy running a downtown business and contributing to the development of Broad Street. "It's so fun to see everyone's reactions," Harmadi explains. They say downtown Augusta is mostly known for its wide variety of restaurants and bars. "It's not known as a retail destination," Martin adds. "We hope that changes".
Freshwater Design Co. is open Wednesday and Thursday from 11:30 a.m. to 6:30 p.m., Friday and Saturday from 11 a.m. to 7 p.m., and Sunday from noon to 5 p.m. For more information, visit freshwaterdesign.co. Alter'D Salon and Spa is open Tuesday through Friday from 9 a.m. to 6 p.m. and Saturday by appointment only. For more information, visit alterdaug.com or call 762-222-8158.
Do you enjoy and benefit from ABD's business news? If so, CLICK HERE to find out ways you can help ABD achieve and expand our mission!