If you enjoy rocking out to Iron Maiden or Anthrax while you pick up your lunch, Jason and Amber Parrish have just the spot for you: Mosh Pit Eats.
Located at 111 Old Evans Road, Suite D in Martinez, the family take-out restaurant offers an eclectic menu that includes sandwiches, salads, fruit bouquets and chocolate-covered strawberries while playing hard rock and heavy metal music. One of their sandwiches is called "I Love Rock n' Roll," inspired by Joan Jett's classic hit.
The business, which opened in November, also sells a variety of coffee blends created by a company in Minnesota and even candles.
"Every weekend, we're at a different concert," Jason said. "We turned our lifestyle into a business."
They run the business with their daughter and his brother. He said they all have their strengths. For example, Jason's good at talking with customers, while Amber designed the menu.
He wants their customers to enjoy not only the food, but also the experience of visiting Mosh Pit Eats. Inside the restaurant, the walls are adorned with guitars and music memorabilia from local artists Greg Fortune and Keith Gregory. They support local bands and sometimes get the chance to feed them.
"People have been receptive to the food and the music," Amber said.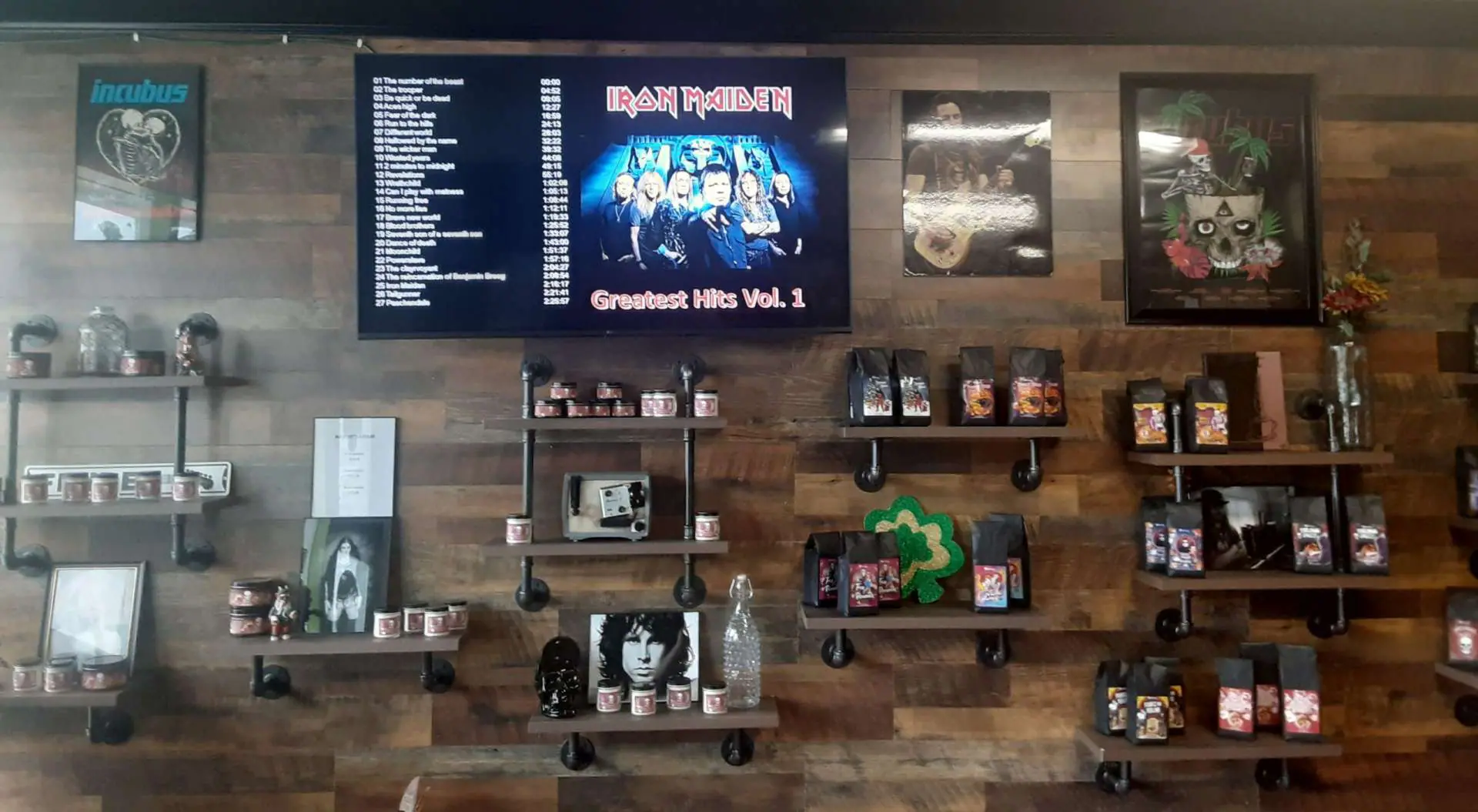 She worked at Fatz Café in Evans for nine years as a bartender and later a manager. Jason worked at a Ruby Tuesday in Virginia for many years.
"Once I left restaurants, I said I would never go back," he said.
He went back to a restaurant, but this time, he owns it. The couple enjoy the freedom of working for themselves, and they're much happier than they ever were working for someone else. Much of their business comes from catering for various local businesses, such as The Eye Guys and Augusta Oncology. They also offer delivery services.
"We can cater for groups from eight to 200," Jason said.
While running Mosh Pit Eats keeps them busy, they enjoy introducing people to their unique business model.
"We sell an experience," he said. "We sell a lifestyle."
The restaurant is open Monday through Saturday from 11 a.m. to 5 p.m. For more information or to place an order, visit moshpiteats.com or call 706-432-9186.