Food trucks have been a convenient and versatile alternative around the country for a decade, or so this writer hears, but not so much around Aiken County, S.C., until the last few years. One of the things that purveyors of the mobile restaurants love about them is that they can pack up and re-appear at the next social event as fast as their permits will allow them.
One of the few things that their customer's sometimes regret is that they don't know where they are today.
Dos Potrillos Mexican Restaurant has a new angle on that. They're food truck trailer is anchored in the ground at 2300 Whiskey Road in front of National Tire & Battery and across Whiskey Road from Publix and the Aiken Mall, and their growing number of fans know where to find them every day. They have set up picnic tables and heated servers for their sauces with an awning for the afternoon sun.
About half of their guests arrive for takeout and about half choose to relax in picnic style says "Front Man" and co-chef, Silvia Garibay. She says the location is ideal. "It's the busiest traffic in Aiken," says the entrepreneur who understands the importance of location to any business. When Sylvia calls Dos Potrillos Mexican Restaurant a family business, she means that in both a plural and an around the clock meaning.
Dos Potrillos means "two young horses" in Spanish, in honor of their strong young sons Salvador, 23, and Anjel, 18.
She and her husband and co-chef Juan opened Dos Potrillos in May when youngest son Anjel, turned 18 and was able to take over Juan's other family business, Perfection Lawncare. Anjel works in the restaurant on its busiest days, Friday afternoons and Saturdays, alongside his brother, fourth-year engineering school student Salvador. Salvador puts in many other hours between classes and Anjel buys the meats at their favorite butcher shop when he closes the landscaping business every Thursday, just cut for him that afternoon from Silvia's order.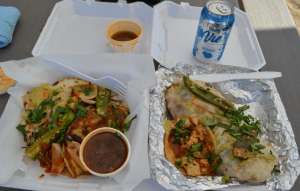 Otherwise, they work almost around the clock. The restaurant is open from 10 a.m., to 5:30, Mondays through Saturdays, except in extreme weather. Juan and Silvia then go shopping for fresh produce and take it home and chop and prepare it, and begin stewing the sauces, until about 10 p.m. They rise around 5:30 or 6:00 a.m., says Silvia, to prepare the several types of fresh vegetables and tomato toppings as well as the guacamole and Pico de Gallo, the jalapenos, onions, fresh cilantro, and the many other spices that they will use later that day. They get to Dos Potrillos around 8 a.m., so they can set up the fresh food line and be ready for their first customers.
Customers are always raving to Silvia that they have always loved Mexican food, usually meaning the Tex-Mex cuisine that swept the country a couple of decades ago, but they have never had some of her dishes and none have ever tasted so good.
She says that's not quite right.
"Every Mexican restaurant has about the same menu, the difference is in how the cooks use their spices and how fresh the ingredients are," says Sylvia.
This longtime Tex-Mex fan isn't sure he believes her because he doesn't think he has ever had Torta, Torta Cubano, Torta Ahadada, Birria or, my new favorite, Quesabirrias!
"Juan and I have been in Aiken for 14 years and before that we worked in so many different Mexican restaurants for 20 years in California, that we have learned what really authentic Mexican is," explains Silvia. "Some of the ones you don't know are some of the ones found in the better restaurants in California, but they are all traditional family dishes, but maybe not so common here. The other thing you will notice is the freshness. When the cilantro is fresh, when the guacamole is fresh, when the tomatoes were just sliced this morning, you will taste the difference."
Part-time front man Salvador, the soon to be engineer, usually takes your order, and always in a very cordial friendly manner, and either he or his mother brings it out to you. But it is Silvia who is the star of the show. She loves to answer your questions and she always takes time for her guests, "but, excuse me, I have to get back to work," is the next thing you will hear.