Art store owner Erica Price is much more interested in helping kids have fun and feel special than discovering the next Picasso.
Price, owner of Rainbow Factory located at 1367 West Martintown Road, Suite 3 in North Augusta, opened her storefront on Friday, April 1. She offers birthday parties, art camps and classes, as well as adult paint parties.
"I like to offer fun, unique parties you won't find elsewhere," Price said.
These parties allow kids to create jewelry, crafts and even slime. She also hosts mobile parties and face painting. Price has been a face painter at events hosted by several companies, including Textron, ADP and recteq.
She's excited about having space to offer summer camps for kids ranging from toddlers to teenagers. Price recently posted her camp schedule, and some are already full. She used to offer them in other venues.
"I've had camps in my garage, but it didn't feel professional enough," Price said.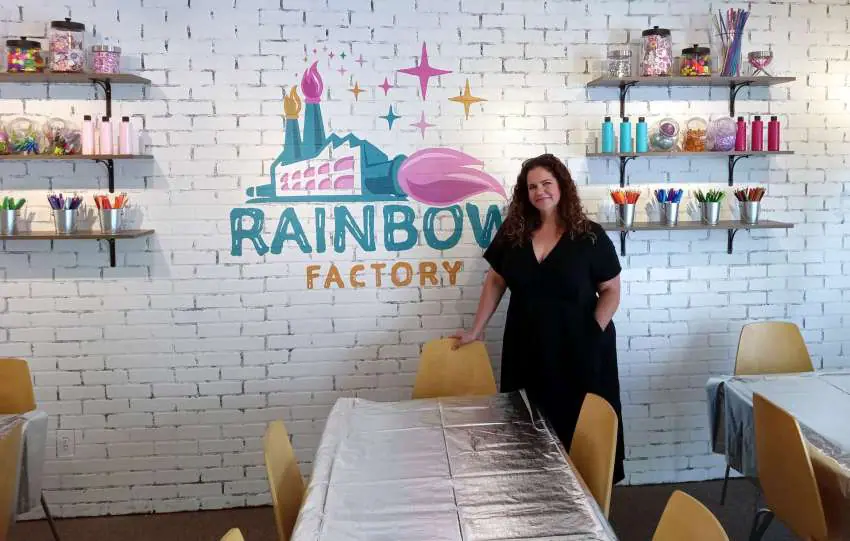 Toddler camps are one hour each and will include sensory bins, painting stations and collaborative murals. Sensory bins can be filled with a variety of materials for them to play with, including sand, water and cotton balls. Parents will come to these camps, but she will offer them a break in her parent lounge.
"I'm a mom, so I know moms want a moment of peace while someone else entertains their child," she said.
Kids in kindergarten through fifth grade will create a variety of artistic pieces, including 3-D models, splatter art and collages. They will also learn about color theory, design and art history.
Price plans to offer art classes for homeschool students and adults. She has hosted paint parties for baby showers, church groups and garden clubs, but very few request these services.
"It's hard to get adults to sign up for paint parties," Price said. "My main demographic has been kids."
Price established her business in 2013 as Arty Party, but she discovered she couldn't trademark that name because someone in Texas had a business with a similar name. In 2020, she changed it to Rainbow Factory.
That was a tough year for her business because most parties were canceled in the height of the pandemic.
"I went from having a full-time income to nothing," Price said.
But in 2021, people were tired of isolating and her business rebounded. She had wanted to open a physical location for many years, but she thought it would cost too much.
Price lives right down the road from her studio, so she saw the building was available.
"I looked in the windows and thought, this is perfect," Price said.
She describes herself as a creative person who has always been interested in art. As a student at Augusta University, Price initially majored in art and then changed it to early childhood education. She discovered neither was right for her, so she changed her major again to a much less creative field: business management.
"I knew no matter what I wanted to do, a business degree would help me get there," Price said.
She said many of the kids she serves struggle with self-esteem issues, but she tries to help them feel better about themselves by giving them her attention and respect.
"I treat children like kings and queens," Price said.
For more information, visit rainbowfactory.com or call 706-267-8453.