When the inventors of Nothing Bundt Cakes, Dena Tripp and Debbie Shwetz of Las Vegas, tasted their first homemade Bundt cake, made in one of their kitchens as a party gift for the other, they knew they had something special and different. They didn't know if they had a business, but they say they knew that if they stuck to their family recipes and treated customers with the fun and welcoming spirit that their home gatherings were known for, surely, they would get a following.
Now, 25 years after their first store and 15 years after franchising there are more than 475 franchises nationwide.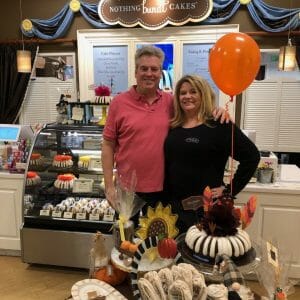 Nothing Bundt Cakes has produced the promise that so many people saw in it from the start.
It was about three years ago that a friend asked Susan See of Evans, GA., to look at a franchising website. At the time she was a successful CSRA attorney.
But her friend thought that Susan had too much personality for it, and she would be better suited in a business at which she met dozens of new people every day and where there would be a premium on her creativity.
"It wasn't that I had always loved baking, or that I was dissatisfied with practicing law, what I really loved about the website and the business was the creativity brought out by two ladies who were best friends," she said in announcing the Aiken location.
"Our Aiken bakery is set to open in February in the shopping center next to Dollar Tree across Whiskey Road from Walmart. Our Augusta area bakery is in the Target shopping center on Washington Road in Evans. The Aiken bakery is expected to be store number 477 in the U.S. and Canada," she said with a little awe, a little pride and her usual double-scoop of enthusiasm.
"I love the brand, the women who started it and what we stand for," said Mrs. See last week. Seemingly always enthusiastic, and very pleasant and polite, she continued, "The everyday local and national motto of Nothing Bundt Cakes is 'The Spirit of a Champion.' It is really like that whenever our doors are open – and before – we all give 110 percent. We have three practices we go by: Number one, if you mess up, take accountability, number two is service, service for our guests and our team and third, the ability to make a connection with our guests, with their celebration and what it means to them and to make a connection with each other as coworkers, like a little family working together."
"We are also big on giving back to our community. We hold or join in a lot of fundraisers to help groups; we believe in giving away our work for raffles, like a golf event or a charity raffle, and we do a lot with our chamber. The Aiken Chamber can be assured that we will be very active with them close to our opening.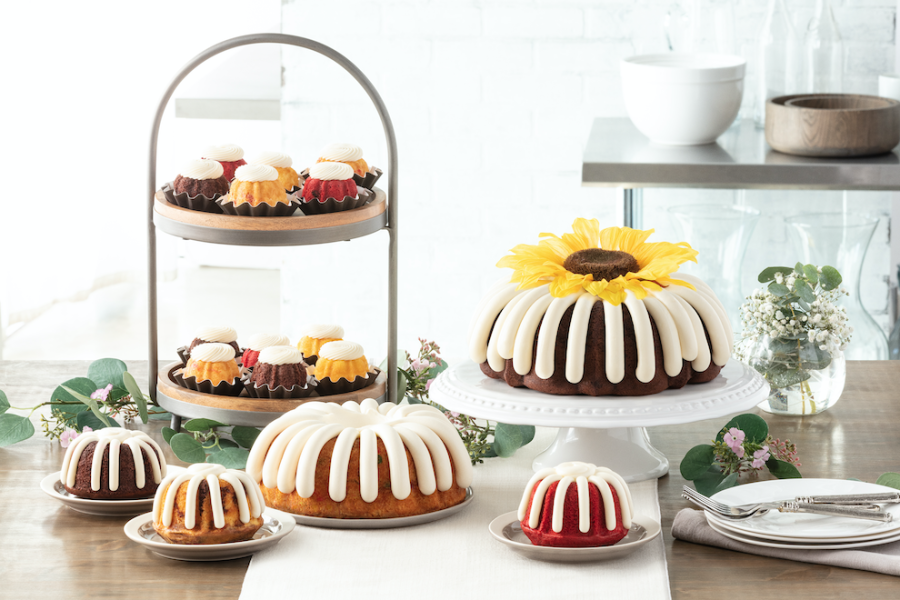 "We hope to open in Aiken not long after the first of the year – and we'll be sure to have Bundt cakes decorated for winter, and then Easter and then Spring and The Masters. If you go to our Evans bakery or go on our website now, you'll find dozens of cakes decorated for Thanksgiving and Christmas." She encourages everyone to start a new Thanksgiving tradition with a Bundt cake festooned with a thankful theme sitting next to the pumpkin pie!
"Anyone who wants to entertain has many, many options," said Mrs. See. "We make ten different flavors and four different sizes and all those come with different themes like graduation or Happy Anniversary! We make them all in our bakery right here in Evans and soon in Aiken. All of our cakes are made from only the freshest ingredients, including real eggs, butter and fresh cream cheese. "Of course, that delicious extra flavor and melt-in-your mouth texture come from generations of mothers' kitchens and the combinations are proprietary. And they all taste so good!"
Her husband James See has always helped in the Evans location and now he is going to leave his full-time job to concentrate on the Aiken bakery. "Going to Aiken is like coming home for me," said Susan. "I grew up in Beech Island and graduated from Silver Bluff High School. It's in a great location too, on Whiskey Road on the South side of Aiken, right in the center of where we want to be."
"I think that our franchise has a great formula, but that doesn't mean that you are going to be successful," says Susan See of her secret to success. "You have to follow that formula, but you also have to have that passion. Bring the joy!
Nothing Bundt Cakes
www.nothingbundtcakes.com
(706) 810-8188