Guitar Pull Business, Community Service and Fun!
Congrats to Kicks 99 for another great Guitar Pull concert—after a one year hiatus due to Covid-19.
Yours truly was amongst hundreds of Beasley Broadcasting advertising clients that got complimentary tickets to the show. Rather than take a business client of mine, I took my eight year-old daughter Lyndee (pictured above) to her first concert!
Business-wise we both noticed the care local companies took to offer giveaways in the "swag-bags" and the quality of the commercials on the concert screen.
Associated Credit Union and First Choice Homebuilders were the presenting sponsors and big supporters of the charity—the United Way of the CSRA—which counts on the concert as its' single biggest fundraiser of the year.
Over the last three Guitar Pulls, Associated Credit Union has contributed $95,000!
They hold (4) tickets stops at their branches in the Augusta area— part of (22) credit unions they have across Georgia. They are open in West Augusta and Evans and closing a branch in Hepzibah on December 15th.
"The ticket stops give Associated Credit Union a lot of exposure and also allows us to promote the credit union and the benefits of credit union membership.  Each stop allows us to connect with potential concert goers and have face-to-face interaction with them, Ann Gavin, VP of Lending said.
We do typically see an increase in membership growth during this time.  It also helps with general awareness.  Awareness of credit unions in general and awareness of Associated Credit Union, "she added.
Gavin, Augusta Division President Leah Eldridge and staff also like how the planning and execution of the promotion improves the credit union's culture and ability to have fun working on such a worthwhile project—- leading up to the big night each year in November.
"The impact that the event has on United Way and the children and families in our area is really what we feel it is all about," said Gavin. Visit www.ACUOnline.org for more information.
Aiken County Delicious!
ABD just wrapped up its Culture Shift Expo presented by Cross Link Consulting— and two of the three refreshment vendors we used were from Aiken County— Stone Roastery and Sheila's Baking Company. Yours truly ate four donuts and pastries—which were so large and airy it was like eating a dozen Krispy Kremes.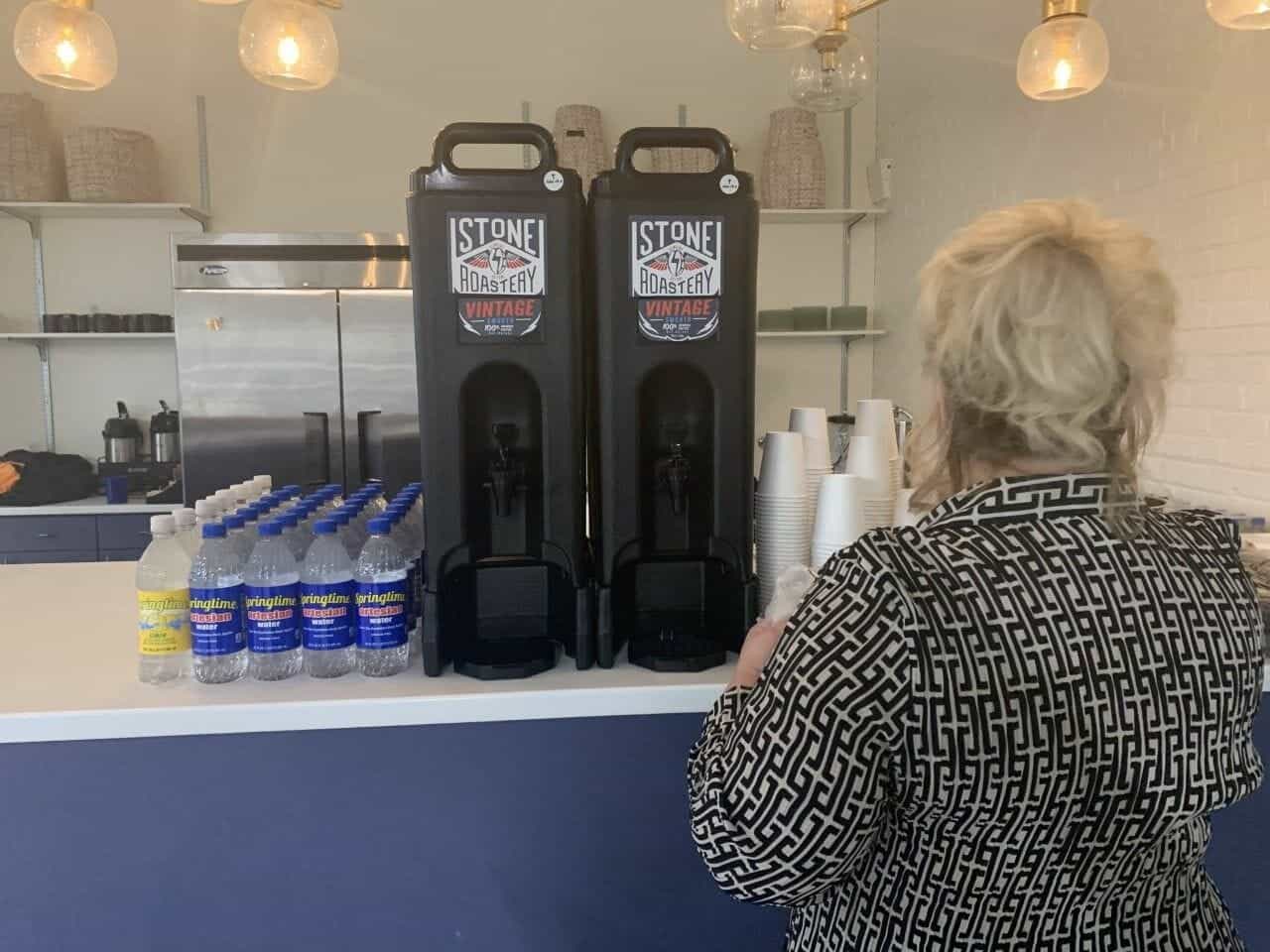 Brad Stone roasts his own coffee and delivers it too—great service and if you're near Highway 25 in Belvedere/North Augusta stop by—just check the days and hours. Like so many businesses, Brad's had to scale back a tad to adapt to the labor crunch and people's changing habits in the pandemic era.
Sheila Martin learned to bake in Amish country in Pennsylvania and worked at a few bakeries in the CSRA before opening Sheila's Baking Company on the 434 Georgia Avenue in North Augusta.
She's famous in these parts for her signature cinnamon rolls and pastries, but will also be offering Thanksgiving themed baked goods, dinner rolls and more!
Nothing Bundt Cake is coming to Aiken in early 2022 in the busy Whiskey Road corridor.
You may notice more and more families serving Bundt cakes with cream cheese frosting—in lieu of sheet cakes—and small mini-Bundt cakes—instead of cupcakes.  This holiday season they have special flavors like Peppermint Bundt's etc.
Our Aiken county bureau reporter Stephen Delaney Hale interviewed the owners who are expanding from the Mullins Crossing Shopping Center to Aiken. Click here to read his story by registering for a membership if you don't have one.