You have one week to find the perfect Valentine for your employees or your special someone. Sure, you can go with traditional roses or a heart-shaped box of chocolates. There's nothing wrong with that. But chocolates melt and roses wilt, how about a love song delivered by guys in tuxedos? Now, that's amore and creates an unforgettable memory!
Whether it's personal or professional, those who help your business succeed and those you love, deserve a little extra attention on February 14, otherwise known as St. Valentine's Day. The Garden City Chorus has the answer to a sentiment with a song.
"I'm starting my 31st year next month with my cohorts in delivering singing Valentines. We have six quartets, all dressed in tuxedos, who sing love songs, deliver roses, and each with a personal message from the sender," explained director, John Phillips.
The Garden City Chorus, the local Chapter of the Barbershop Harmony Society, has delivered as many as 200 heartfelt songs in one day. Forty percent are repeat customers. Their customers include dental offices, banks, hospital staff, and many others.
"Our wives are Valentine widows on that special day because we are delivering love by singing Let Me Call You Sweetheart and Heart of my Heart to employees, wives, girlfriends, and husbands across the CSRA."
After a couple of years of virtual performances due to Covid, the guys from Garden City Chorus are happy to be back delivering LOVE messages in person.
"When our guys step in front of a recipient or an entire office singing in four-part harmony, it's pretty overwhelming. It's an emotional experience. For a business owner or a spouse who delivered the sentiment, at that moment he or she is a hero."
It's not just a love song to those you adore, the $65 charge for the singing Valentine goes to providing scholarships for area high school seniors majoring in music. The Garden City Chorus has donated more than $10,000 since they began the Singing Valentine program. Some of this year's proceeds will also be dedicated to the Harmony Foundation which supports growing barbershop quartets.
Guys and gals and business owners, don't wait until the last minute, place an order now and be a hero! Your employees or your honey may sing your praises for weeks to come.
If you order a Singing Valentine before February 9, you'll receive a $15 discount. For more information on scheduling a memorable Valentine's Day for your staff or sweetheart, visit Garden City Chorus for more information or call 803-599-4228.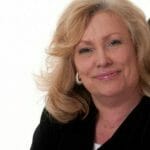 Editor's Note:
Mitzi Oxford is a veteran broadcaster and features writer who also worked at the same television station in Columbus, Georgia as Augusta's Brad Means! 
If you have a South Carolina story idea for Mitzi, please email her at [email protected].