Editor's Note: Wes Hennings never met a meal he walked away from and is an opinionated eater! Each Monday he shares the results of a business lunch he's had with a colleague as a way to advise our business community on the good, bad and the tasty across the CSRA. He doesn't let ABD or the restaurant know where he is going and his opinions are his own. He grades the restaurants he visits on a 1-5 scale with "5" being outstanding. We call this our "Real Business Lunch Review".
Food Quality: 3
Service: 4
Business Meeting: 3
Value: 5
Average Score: 3.75
Man shall not live by lunch alone, so this week it's time to review a popular local breakfast spot. But while I visited during the morning hours, don't worry, the Sunrise Grill is open till 2pm and always serving breakfast.
The Sunrise Grill is everything you'd expect from a local diner, but I guess I always come hoping for a little more. There's the older guys in the corner who know the servers by name, and those servers are very likely to call you 'sweetie' or 'hun' when taking your order. The condiments are on the table when you arrive and the menu is exactly what you'd expect, a mix of eggs, biscuits, toast, meats, and burgers for the lunch crew.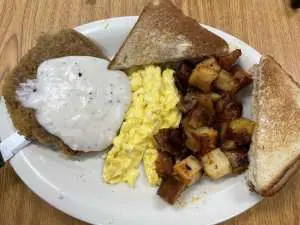 It's the familiarity (even on a first visit) that gives the grill its charm. You know what you should expect and you get it. You also get a big ol' helping of food. I decided to really go against the doctor's wishes on this visit and order a country fried steak breakfast with scrambled eggs, home fries, and toast. Get one thing straight – the home fries alone are worth the visit. If you choose grits over them, you've done yourself a disservice.
But beyond those heavenly potatoes, I found the rest of the meal a bit lacking. The meat was a tad chewy and the eggs a little watery. Make no mistake though, I left full and happy for just around $10. It's a price that's hard to beat these days at a place that has proven consistent through the years.
It's probably not the best place for business, as both locations (North Augusta and Washington Road) are just big open rooms with servers taking orders, loud conversations, TVs, and no shortage of children darting about. But it's a place for everyone, so I think just about everyone goes every once in a while, meaning their business has been around for years and I would expect it to be around for years more.
So if you need a hearty meal that's light on the stomach but full on nostalgia, Sunrise Grill may not be a great meal, but it sure feels good.
Sunrise Grill
3830 Washington Rd. Suite 10
404 E. Martin town Road
thesunrisegrill.com