Editor's Note:
Wes Hennings never met a meal he walked away from and is an opinionated eater! Each Monday he shares the results of a business lunch he's had with a colleague as a way to advise our business community on the good, bad and the tasty across the CSRA. He doesn't let ABD or the restaurant know where he is going and his opinions are his own. He grades the restaurants he visits on a 1-5 scale with "5" being outstanding. This real restaurant review was written in May 2021 prior to Manuel's re-opening its' dining room. Food photography beautifully taken by lunch guest Robb Smith.
Food Quality: 5
Service: 4
Business Meeting: 4
Value: 4
Combined Score: 4.25 of 5
For a high-quality lunch in a charming setting just outside of downtown Augusta, look no further than Manuel's Bread Cafe. It will likely be on the higher-priced end of most lunches, but I think you'll find it's worth it.
I met a good friend in Hammond's Ferry in North Augusta on a Monday at noon to test the fares at Manuel's. All dining is currently outdoors as we navigate the closing days (hopefully) of the pandemic. Indoor seating is limited anyway, so it's always been more of a sidewalk cafe in this Charlestonian enclave.
It took a minute for us to see our waitress, but not an annoyingly long time, and we treated ourselves to the hummus with warm pita bread to start. Balsamic vinegar gave a traditional choice a little extra pizazz. The fried ravioli was a close second on the list of six or seven appetizers.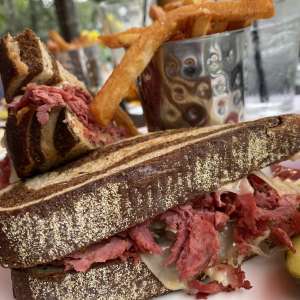 While there were plenty of salads on the menu, we both opted for sandwiches. I went for the burger with cheese and bacon, while my companion opted for a reuben. The French flair of Manuel's would also lend itself nicely to trying the croque monsieur. Sandwiches are priced in the $12-$15 range. Salads are a bit cheaper unless you start adding meat to them. There is also duck confit available with many entrees, but that will increase your price quite a bit more.
While the sandwiches were tasty, for me the fries were the star of the show, fried to perfection in duck fat. This provides the crisp that you want with an incredible flavor that seems unique to the Augusta market.
I definitely recommend the food and setting for a business meeting, but the area feels a bit cramped, so be prepared to overhear conversations and perhaps be overheard. A nice breeze seemed to carry away our troubles, however, and we did not feel unsafe – for those still conscious of the virus making its rounds.
Manuel's also boasts freshness, with herbs and veggies gathered from the community garden in the neighborhood. It's referred to as Blue Clay Farms, and is a feature in many of the item titles on the menu.
Manuel's and Hammond's Ferry can see a world away from the busy streets of the Augusta across the river. So make your way through the tight streets and enjoy a good meal at the closest thing you'll get to a Parisian cafe in this neck of the woods.
Manuel's Bread Café
505 Railroad Ave #100
North Augusta, SC
manuelsbreadcafe.com
Do you enjoy and benefit from ABD's business news? If so, CLICK HERE to find out ways you can help ABD achieve and expand our mission!