Editor's Note:
Wes Hennings never met a meal he walked away from and is an opinionated eater! Each Monday he shares the results of a business lunch he's had with a colleague as a way to advise our business community on the good, bad and the tasty across the CSRA. He doesn't let ABD or the restaurant know where he is going and his opinions are his own. He grades the restaurants he visits on a 1-5 scale with "5" being outstanding. We call this our "Real Business Lunch Review".
Food Quality: 5
Service: 4
Business Meeting: 4
Value: 5
Score: 4.5 of 5
Nacho Mama's in downtown Augusta is nacho average burrito shop, and that's exactly why it tops my list of best places to grab lunch in the city. In a world of burrito shop clones, this eclectic, local stop stands a full sombrero above the rest.
On this particular day, I was meeting one of my favorite people for lunch, which made one of my favorite places an even better experience. Pro tip: the line at the counter can get a little long at noon, so try to arrive just a few minutes before. The menu has your typical Latin lunch fair, with a few twists like Mahi Mahi burritos and a delicious mango habanero sauce in several of the dishes.
Burritos are the main attraction, and it's no lie when you see the shirts and signs proclaiming that "We roll 'em fat." On this visit, however, I opted for nachos with shredded beef and beans, and my lunch partner grabbed a quesadilla. The value points in this review don't come from a necessarily inexpensive price point, but rather the very larger portions. You would have no trouble making a second meal out of any of the plates.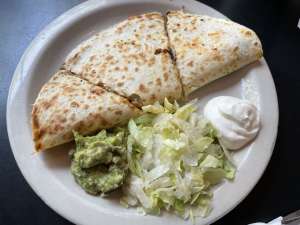 If you need a guacamole or cheese dip fix, these are also highlights at Nacho Mama's. The ingredients are fresh, and they're cooking everything to order, making it feel a bit more elevated than the cafeteria style of other similar eating joints. There is a constant buzz in the open and aging space, meaning when your order is ready, the team will call your name loudly to come and pick up. That's why they can't quite receive full marks as a place to conduct business, because you won't really find a quiet place to chat if you need to talk numbers.
It's almost unfair to give them service marks, as you order and pick up your food at the counter. But if you're wanting someone to serve you at your table, better walk a block or so down for one of our other great downtown spots. Otherwise, I've found the employees friendly, and after a few visits remember your face and regular order.
I think you get the picture. Nacho Mama's is one of the first places I'll recommend for people looking for lunch in our city. It's a restaurant that feels uniquely Augusta, and I've never heard anyone saying they didn't enjoy their meal when they were done. Put Nacho Mama's at the top of the list.
Nacho Mama's
976 Broad St
Augusta, GA
nachomamasaugusta.com