StoreEase is hoping to open today with a state of the art self-storage center with no employees. They are located next to the Wife Saver Restaurant at 1106 Furys Ferry Road photo by Neil Gordon Contractors hope to have approval today from the Columbia County Fire Marshall's Department to open their StoreEase indoor storage facility at 1106 Fury's Ferry Road. The General Contractor tells Augusta Business Daily that final touches like striping the front parking lot are taking place. There are more than 300 units and the GC tells ABD that some have been reserved in advance. A second and larger StoreEase facility behind the Augusta West Dance Studio at Furys Ferry and Riverwatch Parkway will be complete by June. That facility backs up to a STORAGE UNITS storage facility that opened in early 2021 in an area of undeveloped highway land with David's Bridal Shop, Simon's Formal Wear, and the future home of Premier Networx.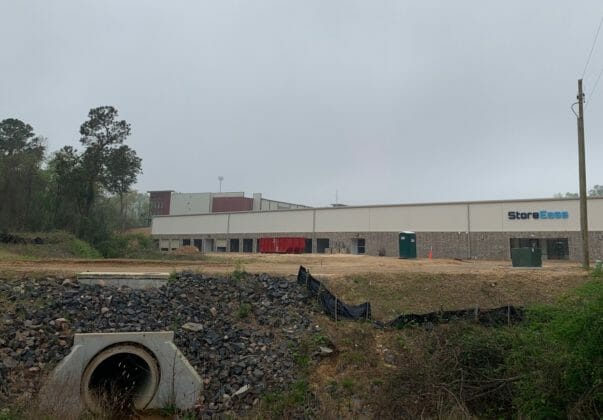 Another large storage facility is under construction in a new Meybohm Plaza near the entrances to the Riverwood and Windmill subdivisions in Evans. "Everybody has too much stuff they don't want to get rid of. I just did a kitchen renovation and am guilty of hoarding stuff myself," chuckled Max Vallotton who will celebrate his 15th anniversary this summer of owning Gate 5 Self Storage on Tobacco Road near Fort Gordon. Vallotton says the growth at Fort Gordon and with the Cyber Centers could be another factor in what some may see as an "overbuilt industry", as is the near 1 million square feet of storage space within several miles of the Richmond\Columbia County lines. He says 50% of his customer base is from Fort Gordon and his business has increased during the pandemic, in part because, like him, people are focusing more on their homes and doing projects, while unearthing more "stuff". Vallotton attended the August 2020 Gorman Self Storage Group Augusta Market Overview and learned there were 78 storage facilities in the CSRA and our market accounted for more than 1.5 times per square foot of space per person than the national average. The new storage centers outlined above will likely put the CSRA at two times the national average range. There are 78 self-storage facilities in the Augusta area, according to real estate brokerage firm Marcus & Millichap. This map shows where they are located and the net rentable square footage per capita.
Covid-19 and competition brings new technology
Vallotton has begun taking applications on-line with storage customers and moving towards a more contactless way of doing business. However, he is a big believer in having his team on-site to answer questions. That is where the Birmingham, Alabama owners of StoreEase differ. They claim this is Evans' first 100% virtually managed storage facility.
Using patent-pending technology, StoreEase employs Virtual Managers (™) that interact with customers via a live proprietary 4K video platform from an offsite location providing all customer service functions remotely. "StoreEase virtually managed facilities offer a superior customer experience without carrying the risk of an employee or customer exposing another to Covid-19. StoreEase's virtual model exceptionally exceeds customers' self-service preferences as well as pandemic precautions," says Josh Boyd, StoreEase President, and CEO in a written statement. Touch-free technology like a proprietary smartphone app for tenants provides access to the property, and even unlocks a smart unit lock from inside the tenant's units. The few common touch spaces within the office are covered in antimicrobial film. StoreEase tells ABD they are hiring local companies to maintain their facility.