Michelle Cooper has survived severe asthma and four strokes to become a boiled peanut entrepreneur.
Cooper, owner of MC Homemade Boiled Peanuts in Augusta, officially founded her business on Oct. 25, 2020. She sells and delivers peanuts throughout the CSRA and charges customers a small delivery fee based on the distance she drives. Cooper said she has also shipped her products to various locations throughout the U.S. and as far away as Haiti.
She got the idea to start the business when her brother came to her house with a bag of boiled peanuts. Cooper began with just a crockpot and a dream, but MC Homemade Boiled Peanuts has become more successful than she ever expected.
"It started going nationwide and to places I never dreamed my peanuts would go," Cooper said.
Her peanuts come in a variety of flavors, including original, Cajun and lemon pepper. Some customers have requested a dill pickle flavor, which she plans to add to her menu.
"The original flavor comes with or without salt because some people can't have salt," she said.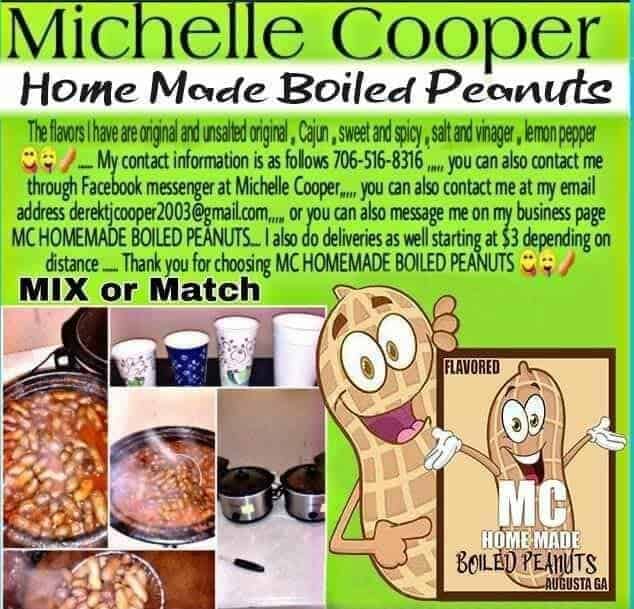 Cooper initially sold $2 and $4 Ziploc bags, but she now sells most of her creations in cups of various sizes to keep them warm. Prices range from $3 for a 12-ounce cup to $26 for a gallon bag.
As the business grows, Cooper hopes to hire employees and invest in a building in downtown Augusta. For now, she said running the business prevents her from getting depressed about her disabilities. Cooper offers sound advice for disabled people who aspire to become business owners.
"Never give up on your goals and your dreams," she said. "You can accomplish anything in life."
For more information or to place an order, call Cooper at 706-516-8316, visit the MC Cooper Facebook page or contact her via Facebook Messenger.