The Leisure and Hospitality industry had a strong start to 2022 but was not able to sustain that momentum throughout the rest of the year. Data provided by STR shows that hotel occupancy rates in Richmond County were higher in the first four months of 2022 than the same four months in 2021, after seasonal adjustment. However, of the remaining months, only October saw higher occupancy rates in 2022 than in 2021.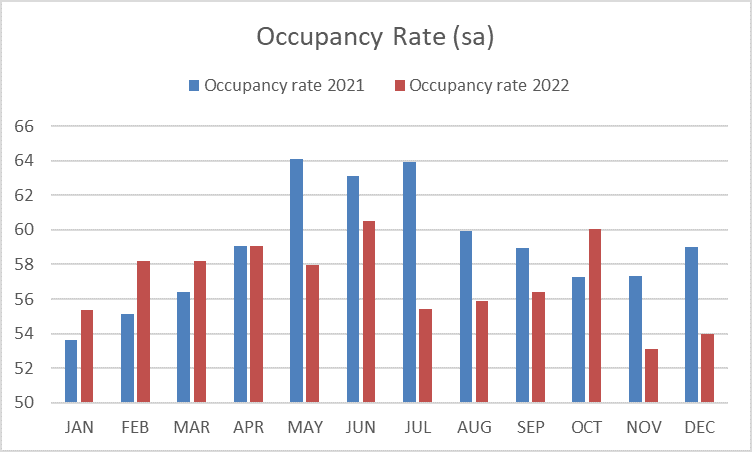 Hoteliers were able to capitalize on this increased demand by receiving a higher revenue per available room from January through April and October. In April, the month of the Masters Golf Tournament, revenue per available room reached $140, a record high going back to 2002. Hotels have not seen triple-digit revenues per available room since 2019. Some of this higher revenue may reflect general inflation, but revenue per available room was $77 in April 2021, and so represents a substantial inflation-adjusted increase. Like occupancy rates, however, revenue per available room was a dollar or two less than 2021 in the remaining months of the year before accounting for inflation. However, total revenue across the hotel industry was 12.7% higher in 2022 than in 2021, more than accounting for inflation.
Last week I reported that employment in leisure and hospitality declined between December 2021 and December 2022. However, looking at each month separately, seasonally adjusted leisure and hospitality employment for the Augusta Metropolitan Statistical Area was generally higher in 2022 than in 2021. Like the other hotel data, it was particularly strong early in the year, reaching a record of over 30,000 in May. However, it continued to outpace 2021 through September.
Overall, the hospitality industry has struggled, like many industries and businesses, with rising inflation last year which impacted travel choices for many people. Hopefully, with the inflation rate declining, 2023 will see a robust leisure and hospitality sector in the Augusta area.