Kevin Hyatt is a walking (and stationary) billboard for his Hyatt Agency, LLC firm. You may have noticed his outdoor billboard while shopping at Costco or noticed him networking at area Chambers of Commerce, on "Thirsty Thursdays" at GreenJackets games, and twice a year at Augusta Business Daily conferences and Expos.
That's where he met the mother and son real estate duo, Shawna and Braydon Woodward of ReMax Reinvented. They each had a booth and Kevin approached the Woodwards and started the process at the ballpark.
My service philosophy is to put the customer's needs first. And get things done immediately. Procrastination is not something that we do. When we say we will call you back, we do it. When you need a document that day, we get it to you. When you need assistance, we are always there to help!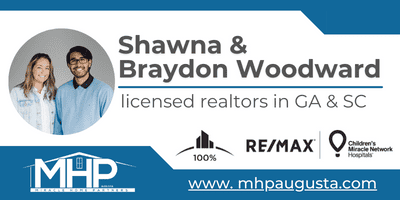 "Kevin saved me over 1800 a year on car insurance! He is very diligent and knowledgeable. I highly recommend giving him the time to quote you a new rate and help you understand what's best for you," said Shawna.
Braydon added: "Working with Kevin has been a great experience. Super knowledgeable and responsive. I saved a ton switching my insurance and I know he got me the best deal!"
Hyatt Agency, LLC is local and independent shopping coverages around to carriers handling auto insurance, home insurance, and commercial insurance (general liability policies, workers comp, etc.)
That is unlike a captive agent (think State Farm, Allstate, Geico, etc.) who can only tell you to stay with their company because they are incentivized to do so.
"We understand the area that you live in, we better understand your insurance needs than a call center in Utah does. We care about your business because you're a part of our community. We do birthday texts, we send out cards with reminders to call us with questions, and love providing referral gift cards when you tell a friend who joins our family!"
Steven Clayborn, another vendor at the ABD Expo is the CEO of Salamis, LLC-, a company that also helps others save money with his purchasing and negotiating skills. He really likes the way Hyatt does business. "I would recommend Kevin to anyone. He helped set up my business insurance for me in a matter of only a few hours and he made the process smooth and easy. An agent that answers all your calls the first time is something I really like about The Hyatt Agency, LLC," said Clayborn.
If you'd like to meet Kevin in his element, attend the final "Thirsty Thursday" event at SRP Park on Thursday, August 31, and pick up a free gift at the entrance of the park at Kevin's booth.
He'll also be exhibiting on October 19th at the ABD Conference and Expo at SRP Park. You can also get a free quote by calling 706-343-8033.