The staff of the SRP Federal Credit Union Branch in Barnwell, S.C., decided they wanted to do something special for the disabled and elderly in their rural community for Easter. To do so, their team visited the local Barnwell Pruitt Health Residential Facility with a small gift for each of the approximately 45 residents.
The SRP team members visited the residents on Wednesday to deliver Bunny Boxes filled with plush chicks or bunnies, a toothbrush, hand sanitizer, facial tissues, hand cream, chocolate eggs, and a chocolate bunny. Some of the residents were members of SRP and the staff knew them. They were able to enjoy time catching up with them and spending time visiting the other residents.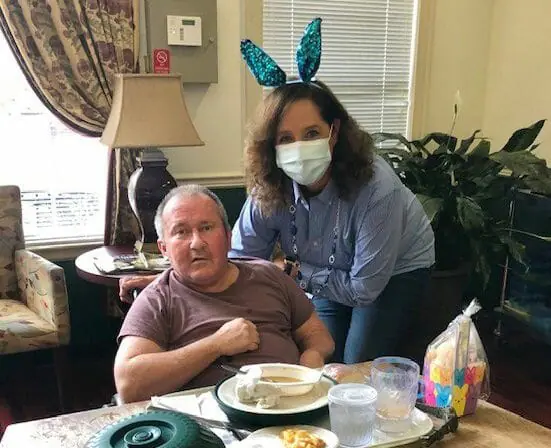 One resident who was given a Bunny Box is Daniel Laird. He is disabled, has had a stroke, and now stays at the facility. Last month was especially difficult due to an additional 27 seizures that added to his difficulties. His mother, Faye McDonald, visits him every day.
She is a member of SRP Federal Credit Union and contacted Angela Cotton, Barnwell Branch Manager, after the visit, saying, "Thank you and the SRP staff for doing such a wonderful thing for these people! Daniel showed me his Easter basket the moment I got there yesterday. He was so proud of it."
SRP Federal Credit Union believes in and encourages the Credit Union philosophy of "People Helping People." Staff who visited included Cotton, Annie Tyler, Jody Thompson, Racheal Neece, and Debbie Music.