Brian Graham, chief executive officer of the Greater Augusta Sports Council, presents Edmund Burke Academy graduate Morgan Clark with a $1,000 check. (Photo by Josh Heath)
Imagine being surprised with a $1,000 check.
That's exactly what happened to Morgan Clark – a 2021 graduate of Edmund Burke Academy in Waynesboro – who was presented with a scholarship at the school on Wednesday, May 26 from the Greater Augusta Sports Council, thanks to a generous donation from Augusta Coca-Cola. "I was completely surprised," she says after receiving the check from Brian Graham, chief executive officer of the Sports Council. "This will definitely help me pay for books. My tuition is pretty much paid for by HOPE." This fall, Clark will start college at the University of Georgia, where she plans to major in biology in hopes of eventually becoming a physical therapist.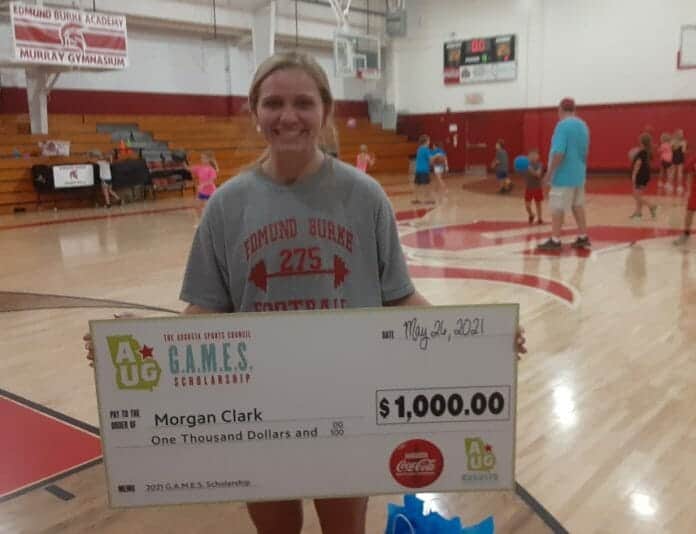 Clark was one of 10 CSRA high school athletes chosen to receive the GAMES Scholarship, which stands for Greater Augusta Medal for Excellence in Sports. She has played four sports, including basketball and track. "The program was created by the Greater Augusta Sports Council in 2011 to highlight outstanding high school athletes in the CSRA," says Graham. "This year, we had a record 73 nominees, who were evaluated by a selection committee based on athletics, academics, and civic involvement." Local businesses help to provide the scholarship funds. "It is only through support from local community partners like Cadence Bank and Augusta Coca-Cola that we're able to support local student-athletes through our scholarship program," he explains.