Located at 5979 Jefferson Davis Highway, the Riverfront Antique Mall has 103,000 square feet of retail space and more than 175 vendors. (Photo taken by Josh Heath)
There have been several conflicting stories recently, including Facebook posts, about the impending closing of Riverfront Antique Mall – located at 5979 Jefferson Davis Highway in North Augusta. ABD went directly to the source to get the accurate story.
The 103,000 square foot mall's liquidation will occur in two phases: All vendors must move out by Aug. 7, but it will stay open until September to sell antiques owned by Edie Conaway, Riverfront's owner, according to Judy Graham-Dowd, the business's manager and account specialist. "I don't know the exact date in September," says Graham-Dowd. "I haven't put anything on Facebook yet." She states Riverfront will close permanently because Conaway, who has owned the business since 2011, is battling a serious illness.
The mall, which has been in business for 19 years, has more than 175 vendors who sell a variety of items, such as antiques, collectibles, clothing, and jewelry. Many plan to relocate to other antique shops in the CSRA, including Teresa Smith, who has been a vendor at Riverfront off and on for the last 13 years. "I may be looking for another place," says Smith, who also sells boutique jewelry at Uptown Marketplace in the Westtown Shopping Center in Martinez. She explains some vendors will move to Uptown within the next few weeks. Others are moving to various local antique shops, such as Bargain Hunters of Augusta located on Augusta West Parkway. At Riverfront, Smith sells "a little bit of everything," including home décor and clothing. She says she will miss the mall and its customers. "It's been a great business," Smith states. Many vendors throughout the mall are currently offering discounts of 50% or more.
Other vendors haven't figured out where they will go next. For example, Richard Mayson, who operates Riverfront's café, says he's looking for a place to relocate his business, but he has no definite plans yet. "I will definitely be somewhere in North Augusta," Mayson states. He explains he has discussed possibly opening another antique mall with some of the other vendors, but "We're not completely settled on that."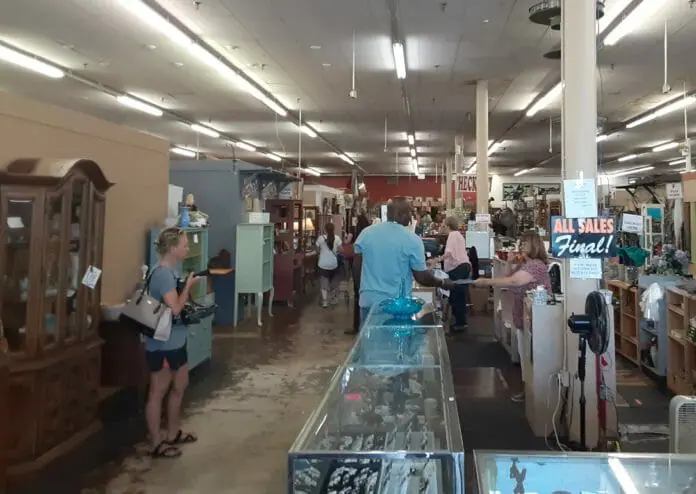 For now, Graham-Dowd is working hard to serve its customers. "These are very loyal customers, and we've appreciated their business," she adds.
Riverfront Antique Mall is open Wednesday-Saturday from 10 a.m. to 6 p.m. For more information, visit their website at riverfrontantiquemallsc.com or call 803-279-0900