Today is "Tie Dye Rosie's" last day in the Old Evans Plaza, but it's a new beginning for her neighbors, Jason and Amber Parrish, of Mosh Pit Eats. Both businesses have maintained 5-star Google reviews for years.
An ABD reporter remembers when Rosie Mendez started in the mid-90's at the former Shopper's World, an indoor mini-mall on Bobby Jones Expressway. It was once a Duffer's indoor golf, Electrolux's North American Headquarters, and currently the Central Campus of New Life Church.
She moved to Old Evans Plaza 25 years ago. She will still be a vendor at community events to sell t-shirts and other '60's and '70's-inspired clothing and various scents and tobacco products.

"I'll probably begin knocking out walls in the next few weeks," said Jason Parrish from his next-door take-out restaurant, Mosh Pit Eats. Parrish, his wife Amber, their three kid employees, and a few of their friends hope to have their new, combined, sit-down restaurant open by around Thanksgiving.
"We'll expand our line of Boars Head meats, our coffee and candle line, and have a retail shop for our customers. Mosh Pit Eats has become popular with their rockin' Wraps and Sandwiches in the $10-12 range.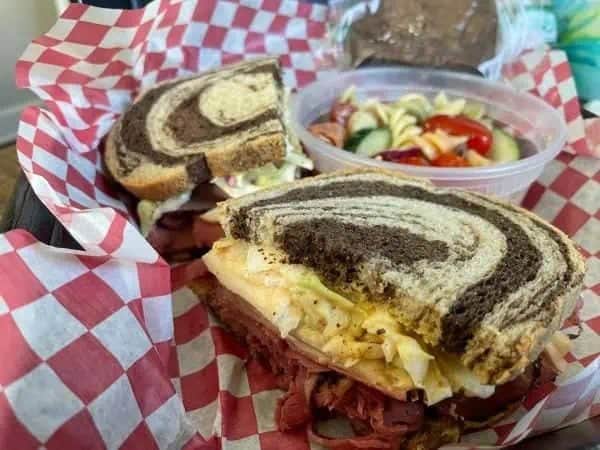 Currently, the Parrish's close at 5 P.M and will be testing out dinner hours in the new space on Thursdays and Fridays to meet more customer demand.
Eventually, Mosh Pit Eats hopes to take another spot in the plaza to create more cooler and kitchen space needed to handle the extra restaurant business and catering, which is exploding.
"We prepared about 800 meals for the participants in the BRAG event (Bike Ride Across Georgia)."
The Parrish's also routinely feed 100 people or more at area Doctor's offices.
As for "Tie Dye Rosie," Parrish appreciated the heads up that she was retiring from retail.
"Being neighbors, we would talk all the time and were always looking out for each other. She let me know her plans in advance. Our clientele is the same," he added.