A multi-million dollar renovation will bring one of Augusta Technical College's in-demand training programs to Walton Way and 12th Street.
The former Johnson Motor Company is being re-purposed to house the automotive training programs available at Augusta Tech. On Wednesday, the college issued an invitation to attend a soft launch and unveiled renderings, showing how it will look.
Augusta Tech was able to purchase the former dealership, thanks to $1 million donations from The Knox Foundation, The Augusta National Golf Club, and Jim Hudson Automotive Group.

The campus will be named the Jim Hudson Automotive Institute at Augusta Tech.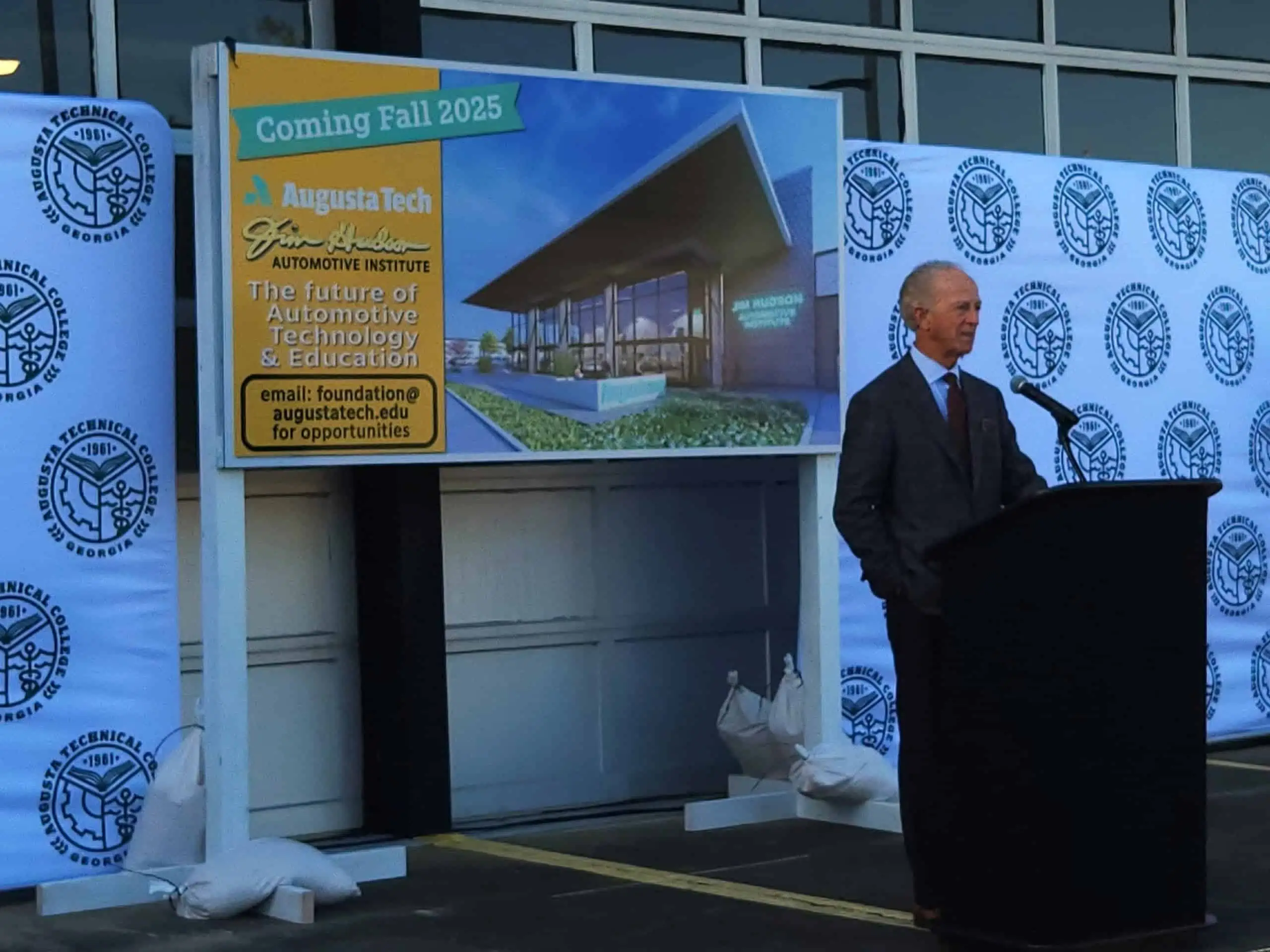 "I'm looking forward to being a part of this organization and looking forward in this area growing and changing and having a whole new look," Jim Hudson told the crowd. "The impact that this is going to have on automotive businesses, there's no way you can imagine. The hardest employees to get today for us are technicians. So, that's the biggest need we have. This won't only be for Augusta, this will be for the state of Georgia, South Carolina, and other areas, and come in right here to get technicians trained."
The existing facility is about 65,000 square feet and sits on roughly six and a half acres. Part of the renovation will increase the facility to 75,000 square feet. Currently, on the Augusta Tech campus off Deans Bridge Road, the automotive training programs have just 11,000 square feet.
Dr. Jermaine Whirl, president of the college, said they have about 120 students enrolled in automotive training.
"We're growing out of our space in terms of just teaching areas. And so, our goal is that we're going to have about 600 students in here at one time, he explained. We have partnerships with the school districts, and we're increasing dual enrollment, increasing the adult enrollment, and with the new programs we're going to be adding, that's going to also bring in some new individuals."
Training programs will cross the spectrum of automotive repair and maintenance needs, including technology, electric vehicles, hybrid vehicles, body repairs and painting, and light, medium, and heavy-duty diesel vehicles.
Whirl said, as a former dealership, the facility also presents the opportunity to teach students in the so-called "front of house" programs, something dealerships told the college they need.
"Those individuals who want to work in parts management, sales or service, or finance, they're actually going to be able to learn that and get a degree in automotive business," he said. "They can do it in a simulated environment, they can actually learn how to do professional selling, and they're going to be able to use the tools that they would do at a dealership. And so, that brings a unique method that's not being used anywhere else."
This marks the second of a planned three-step process bringing Augusta Tech into the heart of Augusta.
In January 2023, the school created a medical instruction campus at Summerville Hospital on Wrightsboro Road. In early December, the school will announce the location on Broad Street where it will open a microenterprise incubator in partnership with the Downtown Development Authority of Augusta.
"These are very intentional moves to try to ensure that we're not only doing a workforce piece, but how can we also help the community at the same time, because this property could have just been dilapidated, that could have just been an area that has been a blind spot. But now with us being here, it's going to rejuvenate the entire footprint. And that's what we want to say outside of just the academics," said Whirl.
It will take about a year to complete the transformation from a car dealership to an automotive training campus. It is expected to be ready in 2025.