Editor's Note:
Wes Hennings never met a meal he walked away from and is an opinionated eater! Each Thursday he shares the results of a business lunch he's had with a colleague as a way to advise our business community on the good, bad, and tasty across the CSRA. He doesn't let ABD or the restaurant know where he is going and his opinions are his own. He grades the restaurants he visits on a 1-5 scale with "5" being outstanding. We call this our "Real Business Lunch Review".
Food Quality: 5
Service: 5
Business Meeting: 5
Value: 4
Overall Rating: 4.75 out of 5
For the first time, I walked into a restaurant and knew that it was the kind of place that the discerning readers of Augusta Business Daily are looking for. And then, it actually lived up to that impression. So for one of the best business lunch options in the two-state, I will highly recommend Frog and the Hen.
First, it's a great place for a business lunch which is the impression that I was talking about. We were greeted promptly and professionally, and immediately seated. Very few people waited at all for a table, and if they did, it was under 15 minutes. The server was also quick to greet us and remained alert to our needs with quick service throughout the meal, which was convenient as we were on a bit of a deadline.
We started with the cheddar biscuits with honey butter. I will say this was the only miss of our meal. To me, the biscuits were a tad dry and to my dining companion, the honey butter lacked enough honey flavor to live up to the name. I'd skip this $8 "snack," aka starter, and head to the main course.
Also, $2 per biscuit seems a little crazy for something my grandmother churned out in her kitchen by the dozens. I also think a cheddar biscuit is always risky because it doesn't get much better than the infamous biscuits at a certain seafood chain.
However, redemption was nigh with the main course. You can imagine that chicken is what's on the menu, so that's what we had. While I opted for "The Big Cheese," a fried chicken sandwich with bacon and pimento cheese, my tablemate had the chicken and waffles.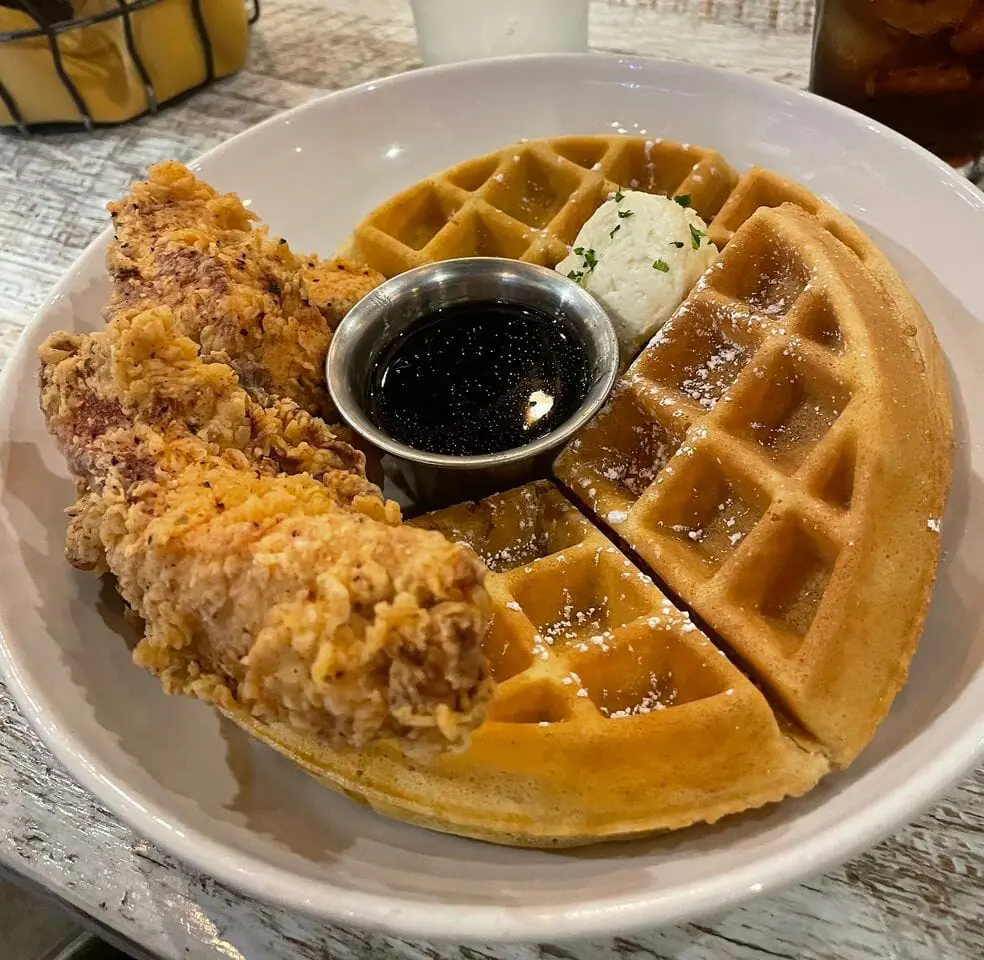 Of course, the first thing I had to try was a French fry, and they were delicious. I kind of expected this as the place is owned by the same restaurant group as Farmhaus, which in my opinion has some of the best fries around. These are a bit more shoestring in nature but just as delicious and more seasoned. They were also served in a huge pile.
The chicken sandwich was the star, however, as it was dripping in pimento cheese and paired with two perfect pieces of bacon. I found myself wanting more of each of the elements of this main course.
As for the chicken and waffles? Also, a hit with a huge waffle and three large chicken tenders – also syrup on the side, so you can decide if you want it covered or lightly apportioned. While I didn't taste it, I can corroborate the review of delicious just by the way it smelled. Other places in town may be more well-known for their chicken and waffles, but these are likely the ones to beat.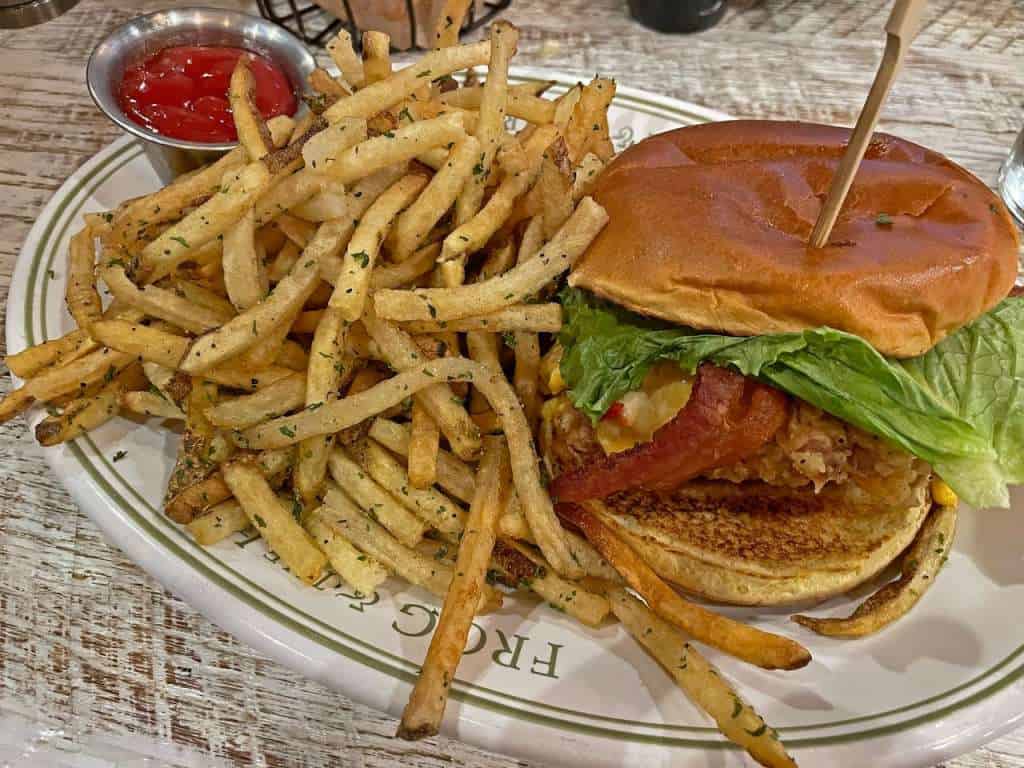 This is a very clean restaurant nestled just on the outskirts of Augusta's business district, but before you hit the 'burbs. It's clean, tasty and a wonderful atmosphere for a business meal, whether it's for colleagues or clients. The price is a smidge more than I like to drop for lunch, but it's also a cost that's easy to justify in quality of food and experience. Definitely put Frog and the Hen on your lunch list.
Frog and the Hen
466 Flowing Wells Rd #4
frogandthehen.com
Do you enjoy and benefit from ABD's business news? If so, CLICK HERE to find out ways you can help ABD achieve and expand our mission!