Editor's Note:
Wes Hennings never met a meal he walked away from and is an opinionated eater! Each Thursday he shares the results of a business lunch he's had with a colleague as a way to advise our business community on the good, bad, and tasty across the CSRA. He doesn't let ABD or the restaurant know where he is going and his opinions are his own. He grades the restaurants he visits on a 1-5 scale with "5" being outstanding. We call this our "Real Business Lunch Review".
Food Quality: 4
Service: 4
Business Meeting: 3
Value: 3
Overall Rating: 3.5 out of 5
I'm fond of saying there's a Mexican restaurant on every corner in the CSRA. But honestly, it feels like there's also a barbecue joint just across the street. So again, it takes quite a meal to stand out from the pack.
While Willie Jewell's Old BBQ is a tasty lunch, it doesn't do much to stand out and the price point is higher than what you'll find at places just down the road with more of a local flair.
While most barbecue spots in the area are homegrown, Willie Jewell's is a chain from Florida, which already makes it a tougher sell to locals. It's already hard enough to decide between Georgia's tomato-based sauce and the tangy mustard style popular in the Palmetto State. So spending our hard-earned barbecue bucks on a chain from the Sunshine State may be a bridge too far.
There's quite a bit of variety on the menu, and variety may be the main reason to give this eatery a go. Of course, there's pulled pork, but also brisket, turkey, ribs, and even smoked sausage. The sides are plentiful with regulars like fries, baked beans, and green beans, but you can also branch out and try corn nuggets (my choice) or onion rings.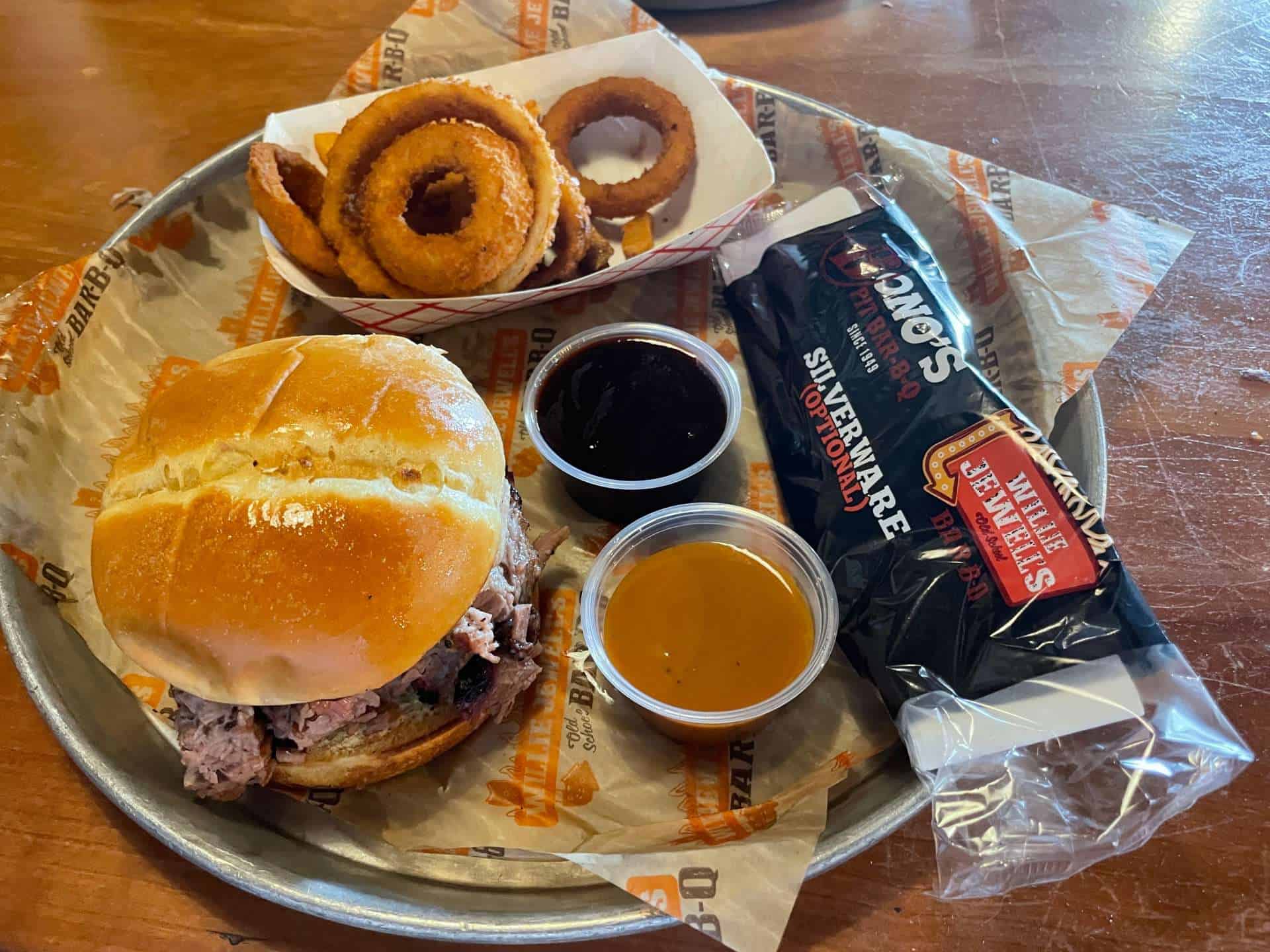 The real problem with this variety is that it will cost you. While a sandwich is a typical $10-$12, many of the sides carry a dollar upcharge, and a platter with basically the same amount of meat (and less bread) will run you $3-$6 more, depending on if you want one or two sides. So my brisket platter with the upgrade of corn nuggets and a drink ran me closer to $20 than the $15 max I usually budget for a lunch out.
Service is hard to judge because you order at the counter and sit down and wait, but the day we visited no one seemed overly friendly or attentive, so the service couldn't make it stand out. It's also a very open space and plenty of folks which probably makes it less than ideal for a business meeting.
The food? It was tasty. The portion wasn't that large and the brisket was a little fatty (which you may or may not enjoy), but it was filling and there were plenty of flavors and four different sauces that could please most palettes.
So Willie Jewell's is a perfectly fine lunch, particularly if you prefer to branch out past a pork sandwich. You just may pay a bit more than you want for a not-so-local barbecue. Next time, I'll probably support the more local guys and save a buck or two.
Willie Jewell's BBQ
3412 Riverwatch Pkwy
williejewells.com