Make Startups, the Augusta-based startup facilitator, officially unveiled its new AI software platform, CofounderOS, at the Fall 2023 Startup Champions Network Summit in Phoenix, Arizona, on Oct. 24.
"Through our certification and other programs, Make Startups has more than a decade of experience in coaching entrepreneurs, teaching classes, leading accelerator programs, and working with investors," said Eric Parker, CEO of Make Startups, who has testified before a U.S. congressional committee on the critical need for entrepreneurship support.
"CofounderOS takes those 10 years of experience, allowing us the ability, through AI, to predict a startup's likelihood for success. Not only that, but it also then provides a plan to help them improve that likelihood for success."

For organizations that help startups get off the ground, this software gives them the ability to automate data tracking on startup success, which can be used for reporting to federal grants and other programs. "It's an all-encompassing tool for startup support," says Parker.
"Software to manage an enterprise (think SAP or Salesforce) tends to be broad and generic so that it can serve a wide client base, like a Swiss Army knife. That often leads to frustration and confusion because the product can do too much. Taking advantage of solutions targeting startups can help a small team make progress quickly, where it is most impactful," explained Reynolds.
In beta mode since July 2023, CofounderOS is being used by more than 100 startups to date across 10 communities, including in Georgia, Texas, and California. According to an article from Jumpstart magazine, it typically takes a startup two to three years to earn a profit.
"The software is radically changing this, with 2/3 of founders using it reporting revenue growth in 90 days," says Parker.
Over the past decade, Make Startups has helped support 500 startup companies. As of mid-October, by adding CofounderOS to their toolkit, 390 startups have been launched this year alone.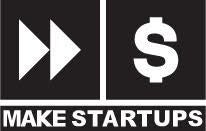 The next phase of platform development will include an investor dashboard where funders can connect with interested investors or banks—and vice versa. For fund managers, CofounderOS provides the added reassurance of startups that have earned a predictive success score.
"What we are building toward is if a startup gets a certain minimum score, they are guaranteed their first investment," says Parker, who adds that the platform is actively meeting with interested investors and banks in various states.
Following its official launch, Make Startups plans to make CofounderOS available to 50 communities and 1,000 founders within the next three months. The platform is available at three different plan levels, from 65 cents a day for the lowest tier to enterprise-wide plans that can run a statewide economic development program.
For more on CofounderOS, visit makestartups.com.