Golden Harvest Food Bank held a ribbon-cutting ceremony for the agency's newly renovated and expanded Volunteer and Administration Center on Aug. 29. The centerpiece of the project is a large room where staff and volunteers pack groceries for distribution.
"So, we'll be able to have hundreds of volunteers in here every week to help us sort and pack food, both for backpacks for children, just general sorting for families and senior boxes," said Amy Breitmann, president and CEO of Golden Harvest.

Golden Harvest started in 1982. Since then, it has grown steadily and now serves people in 25 counties in Georgia and South Carolina. In 2021, the food bank identified an 8.8 million meal gap across that service area. The goal is to close that gap by 2030 by providing 20 million meals per year.
That's why volunteers are so critical to the food bank's mission. It has fewer than 60 employees. Volunteers are necessary to help in the warehouse, packing boxes, and distributing food to people in need of help.
Russell Lahodny, president and CEO of the Columbia County Chamber of Commerce, said that's where businesses in the 25 county service area, large and small, can support the food bank.
"There are a lot of people that need the services and when you have that many people that need the services, you need more people to be able to distribute the food," he said. "Through our leadership programs, we tour here, we make them aware of this facility. We encourage them to participate. Don't just make it a one-day thing. Make it an employee-wide thing, make opportunities for your employees, maybe to take a day off, to serve the community."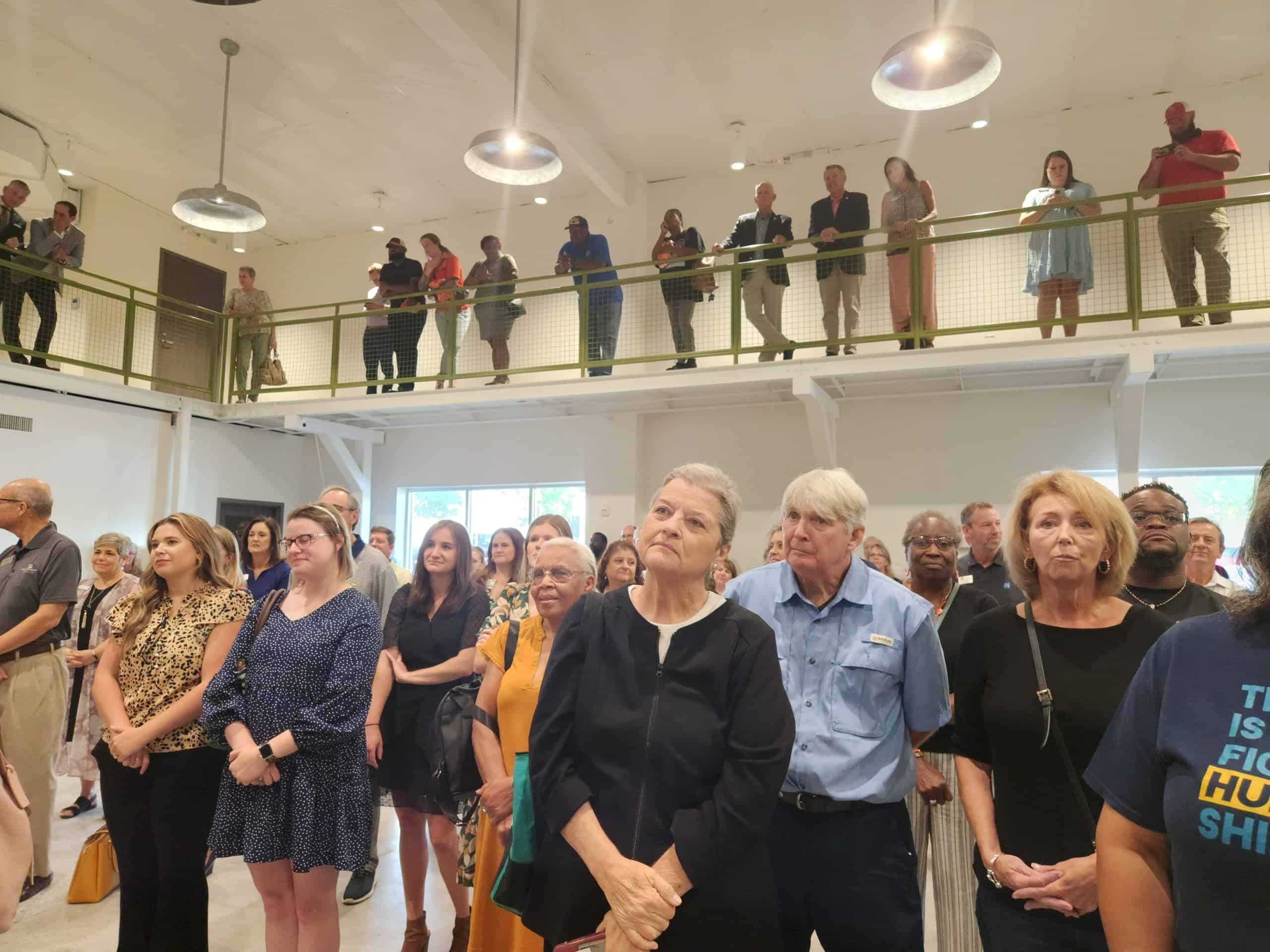 "Hunger is the most basic of needs, so food is the most basic of needs for our community members," explained Breitmann. "Until they have that, they're not able to do all of the other things to be successful, to concentrate in school as a child, to fight any kind of disease as a senior, to just make their family work budget-wise. It's really the foundational need of our community."
Lahodny said business participation in volunteerism can also be an asset to attract new businesses.
"That plays a vital role in it. I mean, we're about attracting new businesses and when you have a vital community of volunteerism, getting engaged, you stand out as a good beacon for new businesses coming in," he said.
The man credited with creating the food bank in 1982 is Michael Firmin. He led the organization until his retirement in 2013. He was on hand to offer thanks for the new center and opportunities to help more people in the future.
"With a vision to make sure no one in our communities in the Central Savannah River area and then, the Midlands of South Carolina goes hungry. It is your will, that all our resources are distributed, so that no one goes without them. We come from many walks of life. We are the agencies that receive the food and then distribute it to those in need one-on-one. We are donors. We are those who have hope that our community can go forward together," he said.
Information on how to volunteer is available at:
https://goldenharvest.org/volunteer/volunteer-opportunities/