Thirty-five community leaders will embark on a nine-month program designed to help them shape Columbia County's future.
The leadership program sponsored by the TaxSlayer leadership program is managed by the Columbia County Chamber of Commerce. The goal of the program is to expose businesses and area leaders to the opportunities and challenges facing our community, promote and foster the development of leadership, and educate and prepare community leaders who are committed to moving the county forward.
Each month, the participants experience topics concerning our community, including county operations, economic development, education, media, healthcare, government, non-profits, military, and law enforcement.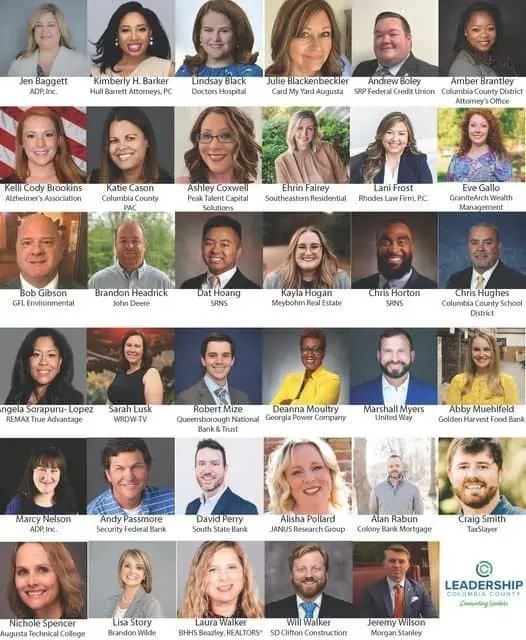 The Leadership Columbia County Class of 2024 includes:
Jen Baggett, ADP, Inc.
Kimberly H. Barker, Hull Barrett Attorneys, PC
Lindsay Black, Doctors Hospital
Julie Blackenbeckler, Card My Yard Augusta
Andrew Boley, SRP Federal Credit Union
Amber Brantley, Columbia County District Attorney's Office
Kelli Cody Brookins, Alzheimer's Association
Katie Cason, Columbia County PAC
Ashley Coxwell, Peak Talent Capital Solutions
Ehrin Fairey, Southeastern Residential
Lani Frost, Rhodes Law Firm, P.C.
Eve Gallo, GraniteArch Wealth Management
Bob Gibson, GFL Environmental
Brandon Headrick, John Deere
Dat Hoang, SRNS
Kayla Hogan, Meybohm Real Estate
Chris Horton, SRNS
Chris Hughes, Columbia County School District
Angela Sorapuru-Lopez, REMAX True Advantage
Sarah Lusk, WRDW-TV
Robert Mize, Queensborough National Bank & Trust
Deanna Moultry, Georgia Power Company
Marshall Myers, United Way
Abby Muehlfeld, Golden Harvest Food Bank
Marcy Nelson, ADP, Inc.
Andy Passmore, Security Federal Bank
David Perry, South State Bank
Alisha Pollard, JANUS Research Group
Alan Rabun, Colony Bank Mortgage
Craig Smith, TaxSlayer
Nichole Spencer, Augusta Technical College
Lisa Story, Brandon Wilde
Laura Walker, BHHS Beazley, Realtors
Will Walker, SD Clifton Construction
Jeremy Wilson, Morgan Stanley
Each Leadership class collaborates on a project to address a specific concern in our community. Last year's class sponsored a toy drive for Hope House and collected over 100 toys. In addition to the toy drive, the class raised over $10,000 in cash donations that were used in much-needed renovations to the Hope House facility.
The chair of the 2024 Leadership Class is Susan See, with Nothing Bundt Cakes, and a Leadership Class of 2020 graduate; the vice chair is Logan Banks, with Brandon Wilde, and a graduate of the Leadership Class of 2021.  For more information about Leadership Columbia County, contact Beth Frits, Leadership Programs Manager, at beth@columbiacountychamber.com or 706-651-0018.