Robbie King says customer service is a journey, not a destination.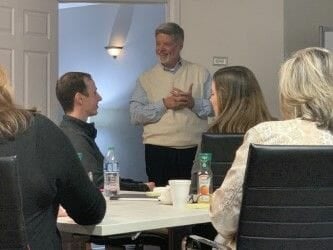 King, founder of Lead Augusta, and Erik Smith, owner/operator of Chick-fil-A in Grovetown, shared their insights and experience as business leaders with a group of 10 local professionals at a customer service workshop called "Building a Culture of Exceptional Customer Service" on Tuesday, Nov. 9 in the ABD boardroom at 930 Stevens Creek Road in Augusta. No matter how great a company's service is, "There are always ways to improve," King says.
He began the workshop by asking participants to provide personal examples of both great and poor customer service. One participant cited the Walmart store where she frequently shops as an example of poor customer service because she's often forced to maneuver around boxes on the floor and employees stocking shelves. "Literally, none of them want to be at work," she says. Another participant says she loves shopping at one of the Walmart stores near her home in North Augusta because the staff goes the extra mile to provide excellent customer service.
King contrasted examples of inconsistent service by discussing companies known for providing the gold standard of customer service, such as Chick-fil-A, Disney, Publix Super Markets, and the Ritz-Carlton Hotel Company. At Disney, every employee is a cast member, and they all share responsibility for providing every guest with an exceptional experience. Regardless of their individual roles, "Their job is to create happiness," he states. "The idea of 'that's not my job' doesn't exist." One thing all these brands have in common is they consistently strive to provide the best service possible.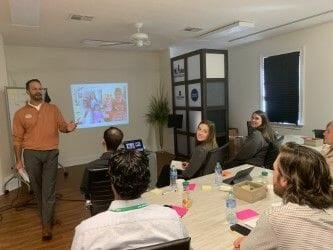 A third participant shared an example of great customer service he's received from an employee with atc Auto Center in Grovetown. "It makes me feel like it's me that he cares about that day," he says. "How you make people feel matters," King explains. He and Smith both say providing great customer service starts with hiring the right employees. "You can teach people skills; you can't teach people to be nice," King states. Smith agrees. "You can't turn someone into a customer service expert," he says. "They've already got it." Smith states he's selective and intentional about hiring the right Chick-fil-A employees to prevent future headaches and expenses associated with hiring the wrong ones. He teaches his team members to anticipate guests' needs. For example, Smith stresses the importance of opening doors for guests or providing a highchair for a guest with a young child. "Anticipating those needs is huge," he explains.
Smith also teaches them they shouldn't take negative interactions with guests personally. "One of the phrases I use is 'Don't let the minority of our guests steal the majority of your joy," he says. Smith also states it's important to treat people with care and concern because you never know the struggles they're facing. That advice resonated with attendee Ben Barmore Jr. – an accountant with Barmore Hammond LLP. "Everybody that you see or come in contact with are all battling their own problems," says Barmore. "That's certainly important when it comes to addressing people."