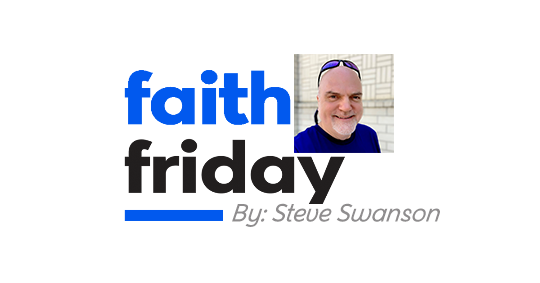 John Bryant gets up at 4 AM each weekday and prepares to wake up listeners across the CSRA. He is the Station Manager for 88.3 FM WAFJ radio (A Christian music station) and morning show co-host. For nineteen years of the station's 29-year history, John has been the voice thousands of folks wake up to.
88.3 FM WAFJ (Winning Augusta for Jesus) began broadcasting in 1994. In the beginning, they aired Christian music and programs from His Radio in Greenville. After several years, the station began originating all its programming locally.
John says, "We are here to share the Sound of Hope with the CSRA because there are people in our community who don't know Jesus and we are in a world that's looking for hope. We're here to help them understand that hope is found in knowing him, and that you're not going to find it anywhere else. We want to be a radio station that shares hope and leads people to Jesus."
I asked John what first-time listeners would notice right away. "I think listeners will notice the music is different, in a good way, because it is music that talks about Jesus. It's music that brings hope, it's music that speaks life, it's music that talks about joy, and what that looks like and where that comes from. I think that they will notice that the personalities are people who care about them. Also, that it's a place where anytime you need somebody to pray with you, we have a 24-hour prayer line that you can call and there's going to be somebody at the other end that is available to pray with you no matter what you're going through anytime day or night."
So, how does the station choose its music? John says by "Trying to figure out what our listeners want or need to hear at this particular moment. Maybe there is a common theme that we're hearing from people as they ask us to pray for them. Maybe there is something going on culturally and there is a song that speaks to that."
John also mentioned that they look at the songs currently on the air, artist data, songs from new artists, and then works to balance that data with the artists that have established themselves as foundational/core to the station's musical identity.
John pointed out that WAFJ wants to be more than music. One of their goals is to be visible and involved across the CSRA. That intentionality takes them to places like the Augusta Market, Aiken's Makin' and the Laurel and Hardy Festival in Harlem. The station also hands out free snow cones at various locations on Fridays during the summer.
WAFJ is also intentional about their contests. Wanting them to be practical and helpful. Right now, the "Great Grocery Giveaway" is underway. Through the contest, listeners can win $100 to $1500 in groceries. (Each contest is made possible by a sponsor).
88.3 WAFJ is a non-commercial station (they do not sell advertising). So, how do they stay on the air? John explained that their listeners contribute the dollars that make it all possible. "It's amazing that for 29 years now that God has allowed us to be here because of the financial support of listeners. It's gifts of various amounts that keep us on the air. It's not just one person with a big pocketbook that's funding this ministry. It's thousands of people across the CSRA who financially support this ministry. It's gifts that range from ten dollars to five hundred dollars a month. God uses the gifts in his own way to make all this happen daily."
John also mentioned there are businesses who partner with the station. "We truly couldn't be here without the support of people giving their gifts to the ministry. Some have supported the station since it started back in 1994. Thank you just doesn't seem adequate."
Most radio stations measure their success by the number of listeners they have and the dollars they bring in from advertising. John says they measure success differently. "We look at the spiritual impact the station is having on the community." He provided these stories:
An inmate from the Edgefield prison let us know that they receive the station through steel and concrete walls, which is hard for a radio signal to penetrate. He said the music brings light to a dark place and that it was especially comforting during the pandemic lock-down.
Another listener said the station has brought her comfort during the past two years of battling cancer. The music, devotion and encouragement brightened some of her darkest days.
A woman was driving home from work severely depressed and not wanting to continue her life. The song "Tell Your Heart to Beat Again" from Danny Gokey came on the radio, and the Lord used that to change her mind and help her move on with her life. John says, "That's what reassures us that this ministry is successful."
How about getting up early so early each morning John? "I once told God I did not want to do morning radio, and I ended up doing morning radio, so I learned from that you don't tell God what you're going to do. He ordains your steps, so you have to go where he leads and do what he wants you to do, or you won't be happy."
He says what gets him going each morning is being part of listeners' lives, interacting with them and providing them with encouragement. He and his morning show partner, April, often hear how grateful listeners are to have a place like WAFJ to turn to during these turbulent times.
You can listen to 88.3 FM on your radio, online at wafj.com, or through the free WAFJ app. With an HD equipped radio you get two additional options– a praise and worship station called The Song and a more progressive music option LF Radio.
WAFJ has recently been nominated for "Station of the Year- Medium market" by CMB- Christian Music Broadcasters. (There are just five stations nominated nationally.) The winner will be announced in Orlando in June.