Digital marketing requires keeping up with trends. It requires research and discipline. It requires great time management. There are tons of articles out there on the web about how to be more productive, how to be more efficient, and how to use life hacks to save time.
This is not one of those articles.
The internet has been a game-changer in so many ways – from transforming the way we do politics and retail, to changing the media landscape, to helping businesses gain more customers. But one of the most significant ways it's changed our lives is the way we waste time.
It's time to take a quick break from the digital marketing world and see what else is out there on the web. And I am not talking about infinitely scrolling on Instagram or Twitter or watching mindless videos for hours on TikTok.
No, we are taking mindless breaks to the next level with sites that I am sure you will find are not just a complete waste of time, but also rather entertaining.
Here are my top 5 time-wasting websites:
#5 – MapCrunch
Want to visit the world but have no money? MapCrunch will take you on a random journey around the world through random Google Street View locations. Just load it up and press the green "Go" button.
I visited Iceland, Quebec, Finland, and South Holland today and I am still traveling. I am trying to get to Ireland, a bucket list item.
#4 – ZoomQuilt
I am not really sure how this is done, but it is fascinating, mesmerizing, and totally relaxing. If you are a fan of fantasy art, this will be right up your alley. I think it really might go on forever.
#3 – Office Stare Machine
If you are a fan of The Office and the groundbreaking "stares" they used, this site is for you. You can watch every uncomfortable moment where The Office characters stare at the camera. Just type in an emotion (try "sanguine") and you'll get the perfect reaction gif.
#2 – Wayback Machine
I just love this site and actually use it fairly often in working with clients. Want to see what a website looked like two, five, or even 20 years ago? This is the site for you. Check Yahoo from Feb 29, 2000, in the image below. It is amazing what we thought looked good 20 years ago. Remember, this was state-of-the-art in 2000.
And #1 is The Useless Web
Until last week, the Wayback Machine was probably my favorite time-waster, but The Useless Web easily tops it. It is a seemingly endless random website of time-wasting. The premise is simple. You click on PLEASE and the Useless Web sends you to a random site.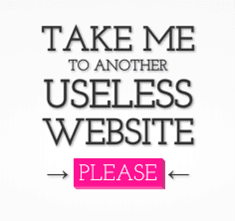 As I was "researching" for this article, I unashamedly laughed out loud in the coffee shop several times. A few odd looks were worth these time-wasters. Here are some of my favorites.
I guess that makes 10 time-wasting sites! Check them out and enjoy.
So what does it all mean?
Remember to take a minute and enjoy life. Digital marketing is important for your business, but it's worth taking some time for yourself to enjoy the lighter things in your life. We'll be back next week in the digital marketing realm with Wi-Fi marketing for your business.
Until next time, remember that you deserve marketing that actually works.