Social Influencers are all the rave in the world of online marketing. It's been a buzzword for a bit and you hear it in the news all the time. But most people think it's just celebrities pushing their wares. Think of Gordon Ramsey or Nigella Lawson in the food world or PewDiePie in the video gaming world.
But Influencer Marketing is not just for celebrities. It's for all kinds of people who have a following that love what they do and want to share it with the world. It's for everyone, from Instagrammers to bloggers and podcasters.
The difference between celebrities and online influencers is that social media influencers have built a loyal audience by being consistent, relevant, funny, and giving genuine advice. People follow the influencer not because of the brand but because of the opinions and recommendations of the influencers.
Companies of all sizes are increasingly looking toward social media influencers to market their products. For a brand, the appeal of influencer marketing is undeniable. It is a way to reach a wide consumer base at minimal cost compared to traditional marketing methods. People who follow influencers trust their judgment and recommendations.
For an influencer, the appeal is that it opens up a world of monetization opportunities, and brands often pay them a fee for the partnership.
We work with Callie Richards of hotpinkandglitter.com, a plus-size model and travel, and fashion blogger. She is called a macro influencer, which means she has between 100,000 and 1 million followers. Callie has more than 500,000 TikTok followers and more than 4.4 million likes are her videos. Check them out at https://www.tiktok.com/@hotpinkandglitter.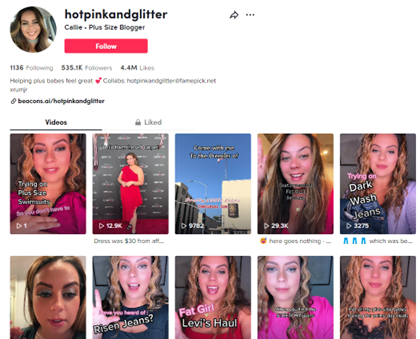 Callie has a huge personality that comes across on her short, but informative TikTok videos as sincere and worth the time to watch. Her followers love to listen to her assessments of the clothing and products she reviews.
Her reviews are brief, but she covers everything you need to know. She will also tell you if something just isn't worth your time or money. And because of that, she has gained a loyal following. People then can go to her website and check out what she has reviewed.
So what does it all mean?
This is the essence of social influencing. It's kind of like your neighbor telling you about the power tool they bought and giving you a play-by-play of the features. You know they believe what they are saying because they use the product and because of the passion they display.
Social influence is an extremely effective way to communicate a brand message, as it cuts through advertising clutter, often skipping the traditional media filter. Social influence is also a powerful way to get people talking about your brand, which sparks conversations and creates a buzz.
The question for your business is, how can you use a local social influencer to jump-start your marketing?
Until next time, remember that you deserve marketing that actually works.