Despite pandemic setbacks, supply chain challenges, inflation, and reports of an impending recession, things seem to be looking up for small business owners in the CSRA.
A few key highlights from a Bank of America study on small businesses with a focus on women and minority-owned business owners included:
Revenue expectations are at an eight-year high, as 67% of small business owners anticipate revenue growth over the next 12 months.
A majority of small business owners are being impacted by inflation (86%) and supply chain issues (68%), causing them to raise prices. However, supply chain impacts are down significantly since last fall (80%).
51% of women business owners believe they currently have equal access to capital to start a business, while 31% believe they will never have equal access to capital.
Black business owners have an optimistic business outlook – 86% believe their revenue will increase over the next year, fueling hiring and expansion plans which are both up from last fall.
We asked Tabitha Hollimon, President and CFO of Hollimon Strategic Advisors to weigh in on the B of A report. She started a tax and accounting business in Augusta in 2012 and then developed Hollimon Strategic Advisors in 2020.

"It allowed me to see businesses in a different light and how to help small businesses survive the future," Hollimon explained.
It took her about six months to transition into what small businesses needed to grow in terms of marketing and measure their cash flow and marketing to succeed. She agrees with the B of A survey in terms of business owners regaining confidence and revenue growth.
"Locally, each industry, whether restaurants, health, and beauty businesses, or others, has trends and sometimes those trends change. Sometimes, it just boils down to sharing on social media and supporting each other."
In terms of having equal access to funding, Hollimon says it's available, but you have to ask for it in the right way. That's with a strong business plan, education, and confidence.
"There are plenty of resources in our community including our local Chamber of Commerce. The challenges are there, but the outlook for small and minority-owned businesses is awesome."
Hollimon added that resources are key. "When you work for a small business, you bring life to that business and help create future entrepreneurs."
Hollimon will serve on the panel of the ABD Business EXPO on October 19 at SRP Park.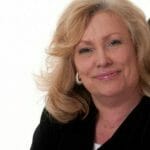 Editor's Note:
Mitzi Oxford is a veteran broadcaster and features writer who also worked at the same television station in Columbus, Georgia as Augusta's Brad Means! If you have a South Carolina story idea for Mitzi, please email her at mitzioxfordcreative@gmail.com.