I had the pleasure of attending the Drive, Chip, & Putt National Finals at Augusta National Golf Club (ANGC) this past Sunday. It was my first time back at the National since witnessing the Sunday round of Tiger's win in 2019, except for a Tuesday practice round visit last year that was shortened by weather.
During the almost six years that I have been writing columns in multiple publications in the CSRA, I have written a few about the ANGC and the Masters. However, what struck me most on Sunday, was how ANGC "masters the customer experience" and how any businessperson, but particularly those in service industries, can learn important lessons from my visit that can be applied to their business.
One of the first things that came to my attention is that there are at least three separate businesses being run at Augusta National: a retail business, a fast-casual food business, and an entertainment business. While the lessons provided below will be most relevant to those who run those types of businesses, many of them can surely apply to most businesses, with emphasis on those in the service sector.
ANGC operates a major retail business in its Golf Shop. The first time I attended the Masters was for the third round in 1989, and then I attended practice rounds in 1990 and 1994, which was the last year before the lottery was initiated to better manage attendance. Back then, in the late 1980's and early 1990's, the Golf Shop was a fraction of the size it is now. Its current size and the volume of business it does from the Saturday of the Women's Amateur through the Sunday final round of the Masters, provide one of the greatest "brick and mortar" retail challenges in the world today. 
However, ANGC pulls it off masterfully by:
      Strong Mix of Assisted- and Self-Shopping: Patrons of the golf shop can choose their merchandise for the most part on their own. However, for many clothing items, there is significant counter assistance. This enhances the customer experience to better able see and learn about the items, but also allows the Golf Shop to better control the inventory. This ensures appropriate return placement of items that are not purchased and reduces the chance of "shrinkage" (more on this later). Allocating assistance to the places where customers need the most help and which allows for better product placement are lessons all retailers can apply.
      Staffing, Staffing, Staffing:The Golf Shop understands how to staff their operations to enhance the customer experience. Whether it is those assisting customers with clothing shopping, the cashiers, or the large number of employees "on the floor" (who appear to have multiple duties…more later), the Golf Shop has determined the number of staff to keep things moving (remember, there is golf to watch!) and have patrons processed as quickly as possible. It appears that all of these positions are over-staffed. While most other businesses cannot afford too much staff, the lesson here is to be sure to have enough staff on hand to enhance the customer experience in your retail store.
      Understanding Queueing and Waiting Time: This goes together with the staffing point above. The Golf Shop has done queueing/waiting time analysis that has led to their number of registers and staff and also to how they staff the checking/shipping area for merchandise. While I realize this past Sunday was probably the lowest demand day of the week, there was very little waiting time in terms of both getting into the Shop and then getting checked out. I think I saw the worst-case scenario on the Sunday of the Masters in 2019, and even then, while there were waits, they were very manageable from a customer perspective. Understanding how to manage lines and wait times are critical to all service businesses.
      Observation:Among the many staff in the Golf Shop, there appear to be several "observers" on the floor. My impression is that these observers have a number of duties, including monitoring inventory levels available to the customer, identifying slowdowns in service (e.g., cashier lines), and being on alert and deterring potential stealing or loss (i.e., "shrinkage") of merchandise. Such observers are valuable in all retail outlets for those same reasons.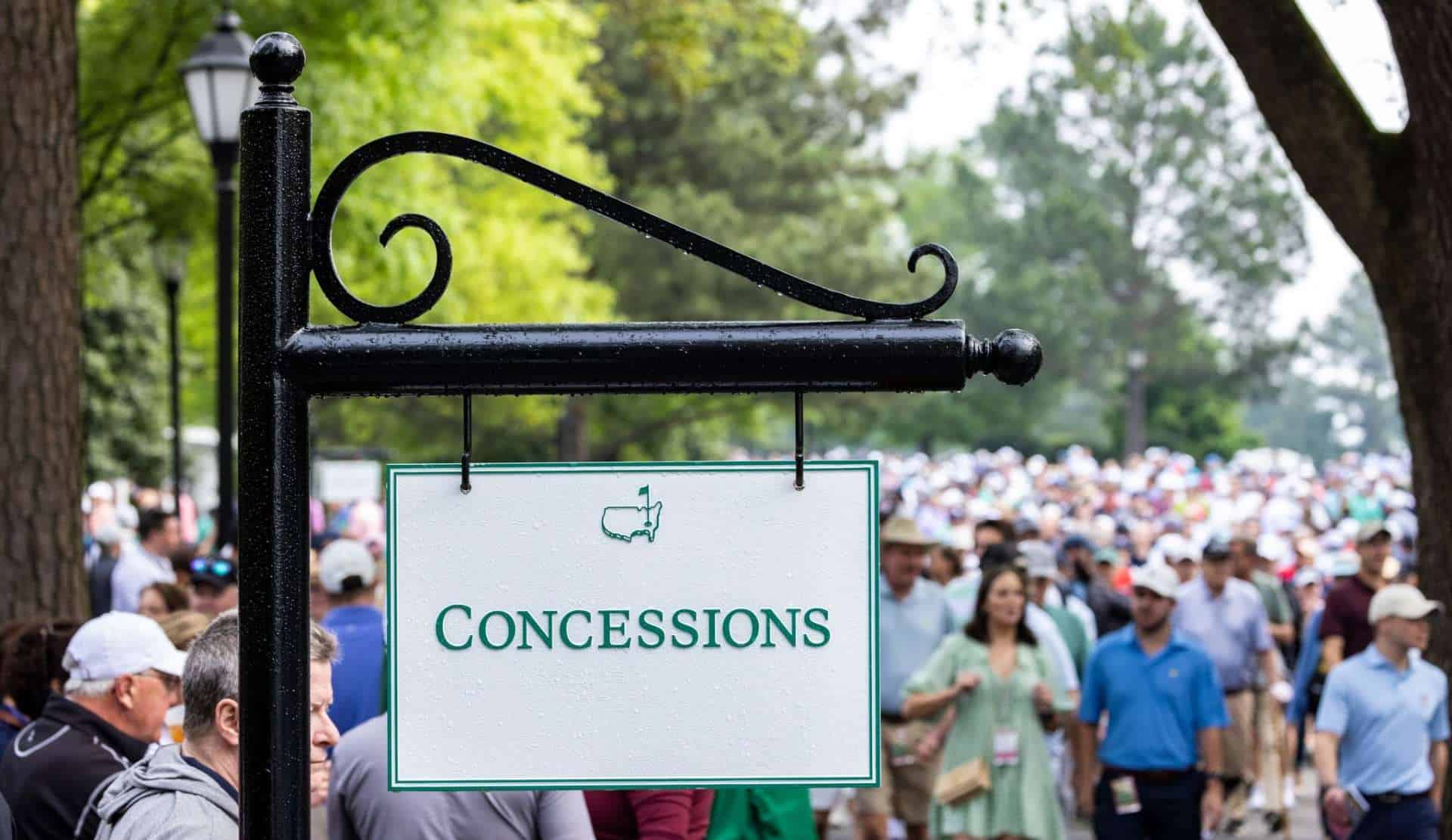 Fast-Casual Dining: The concessions at ANGC is equivalent to fast-food or fast-casual dining within its grounds. During Sunday's event, only the main concession area was open, but during the Women's Amateur and Masters (including practice rounds), there are multiple concession areas throughout the course, providing convenient access (very important!) to patrons who are there to watch golf. Many of the same techniques used in the Golf Shop are used in concessions; including more than adequate staffing queueing and waiting time management, and observation to proactively identify potential issues. All these techniques are helpful for those of you in the fast/fast-casual restaurant business. However, there are a couple of other things that are done in food concessions that are critical, but not always easily observable.
      Inventory Management: The food concessions at ANGC does a great job of maintaining appropriate inventory available for purchase throughout the day. Food items are restocked frequently, and items are at appropriate temperatures, so they are not out too long. Clearly, the staff there has done a very good job of determining anticipated demand, so they can replenish stock.
      Food Preparation and Transport:  Throughout the years, ANGC continues to upgrade its facilities to assist in getting freshly prepared food to its patrons in a timely manner. Significant investment in preparation facilities and methods for transporting the food to the concessions have supported this ability to maximize the culinary experience at a very low cost. So, if you own a food service business, you can learn from ANGC in prioritizing not only staffing and waiting line management, but also optimizing your inventory management through timely preparation and logistics.
Ultimately, ANGC is an entertainment venue that provides patrons from around the world with an unmatched experience. While much of that has to do with the natural beauty of the grounds (built on what was once a nursery) and the elite level of golf competition, ANGC does everything in its power to ensure an outstanding customer experience, including:
           – Extraordinarily friendly and welcoming employees
           – Top-notch restroom facilities in terms of both speed and cleanliness
           – Free and easy-to-navigate parking
           – A pristine environment with no digital interruptions 
If you are in a service business, remember that services are experienced more than consumed. So, while your primary service is critically important, so is everything around it that makes the customer experience enjoyable and memorable.  
Nobody does it better than Augusta National, so follow its lead to help you master your customer experience!