About 20 local female homebuilders and home services professionals have collaborated to build and donate playhouses to CSRA non-profit organizations.
Yesterday, the Augusta Chapter of Professional Women in Building held a ribbon-cutting ceremony to celebrate the donation of its first playhouse to the Family Y Child Development Academy, located at 1425 Walton Way, next door to the Peabody Apartments. The playhouse is 4 feet high and 8 feet wide.
"Right now, we're working on two more," said Builders Association of Metro Augusta Executive Officer, Tiffany Heitzman.
Those playhouses will be given to i-Care, a local nonprofit that serves victims of sex trafficking, and Child Enrichment, which provides various services for abused and neglected children.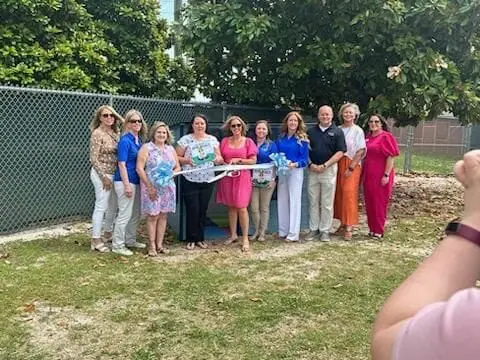 She said they got the idea for the playhouse project from a PWB chapter in Utah that built a house and spoke to the statewide chapter.
"We couldn't pull off a single-family home, but we wanted to do something for our community and our nonprofits," Heitzman said.
She said building the first playhouse took two to three months because their time was limited.
"It took us way longer than we all thought," Heitzman said.
In the future, she said they'll probably find some time on the weekends to work on the project. She said the local chapter is made up of various professionals, including not only homebuilders, but also mortgage loan officers, a heating and air technician, and a roofing contractor.
"For me, the most exciting part is seeing us ladies put our words into action and give the playhouses to the community," Heitzman said.