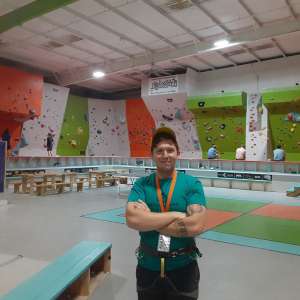 Chris Watson turned his passion for climbing into a job he loves. Companies are even getting involved with team building exercises.
Watson serves as general manager of Active Climbing Augusta located at 631 South Old Belair Road in Grovetown (not far from Belair Road Food Lion). He visited the 18,000-square-foot rock climbing gym the first day it opened in 2016 and fell in love with the sport. Watson began working for Active Climbing that same year. Climbing is "for people of all ages and skill levels", he says. Despite one's physical condition, "We have something for you to do". Watson explains climbing is totally different from traditional gym workouts that focus on strengthening one muscle group at a time. "It's a full-body endeavor", he states. "It's great for your mind too, because it helps to sharpen a climber's problem-solving skills". Watson has witnessed firsthand the benefits of regular climbing. For example, working out at Active Climbing helped one member lose 120 pounds. He explains it has also improved his own physical fitness, particularly his upper-body strength.
For Aidan Klebba, climbing has changed his life for the better. "It gives me an avenue to try really hard at something", says Klebba, who has been climbing for five years. He states it has also given him opportunities to become more social and make friends. Cameron McCaslin (see photo at top of article), another member of Active Climbing, says climbing is much more enjoyable than working out in a gym. "I pretty much quit working out at the gym once I started doing this", McCaslin, who has been climbing for about two and a half years, states.
The gym features various types of climbing experiences, including bouldering and top rope. Bouldering involves climbing a 15-foot wall without a rope, which may sound risky, but there's a memory foam pad underneath to catch climbers who fall. In top rope climbing, the climber is secured to a rope, which is attached to an anchor at the top of the wall and a partner called a belayer at the bottom who takes up slack in the rope to prevent falls. "If you fall, the rope catches you right away," Watson explains. "Every fall is as safe as possible." Active climbing offers introductory classes. Naturally, many first-time climbers are nervous at first, especially about bouldering, but staff members are there to help. "Sometimes people learn they're afraid of heights when they're on the wall, but by the end, they're really comfortable," he states. Even people who visit the gym and don't enjoy it give the business positive reviews. "It's just so welcoming," adds Watson.
Active Climbing also has a children's room with climbing stations, where they hold birthday parties. Their youngest climber was 14 months old. He says the gym has also hosted team-building activities for businesses and the military, as well as climbing competitions. Like other gyms, the pandemic forced Active Climbing to close to the public for about two months, though members were allowed to return sooner. "We're coming back," Watson explains. "August was our most profitable month since we opened." Masks are required when walking around the gym or interacting with other customers, but they can be removed while climbing.
While he loves climbing, interacting with people and the community is what Watson enjoys most about his job. "I've never seen something so beneficial for a community," he adds.
Active Climbing is open Monday through Friday from 3 p.m. to 9 p.m., Saturday from 11 a.m. to 8 p.m., and Sunday from 1 p.m. to 6 p.m. The gym offers various membership options for individuals, families, youth, and college students, as well as day passes and punch cards. For more information, visit activeclimbing.com or call 706-922-1054.