Augusta is synonymous with green jackets and to some extent with green boxes. One takes place in April, the other is a Christmas tradition akin to searching for Willie Wonka's Golden Ticket, but for adults.
The Green Box Giveaway from Windsor Jewelers celebrated its sixth year in 2022, but each year it has been more than just a search for a prize. It's a part of Augusta's rich history.
The giveaway was the brainchild of Shane Thompson, head of marketing for Windsor Jewelers, and the third generation of Thompsons to lead the business.
Speaking to a crowd of nearly 200 at the Augusta Chamber of Commerce's Women in Business luncheon, Thompson said he has three individual classifications of big marketing ideas. One is amplifying what you are, but people do not know, which can be as simple as running commercials or Ads on social media. The second is finding a way to project what you want to be, but aren't which can be slick ads to get attention, but may not be accurate. He said the third is the most difficult, projecting what you are, but people do not think you are.
The Green Box Giveaway promotion was born six years ago and has gone over well.
"The promotion started to get more folks into our store, especially those who held reservations," Thompson said. "I would say that it's changed gears and I do it for the people that participate. You know, it means a lot to the community. And everybody that I see that has played in the past asked me if we would please do it again."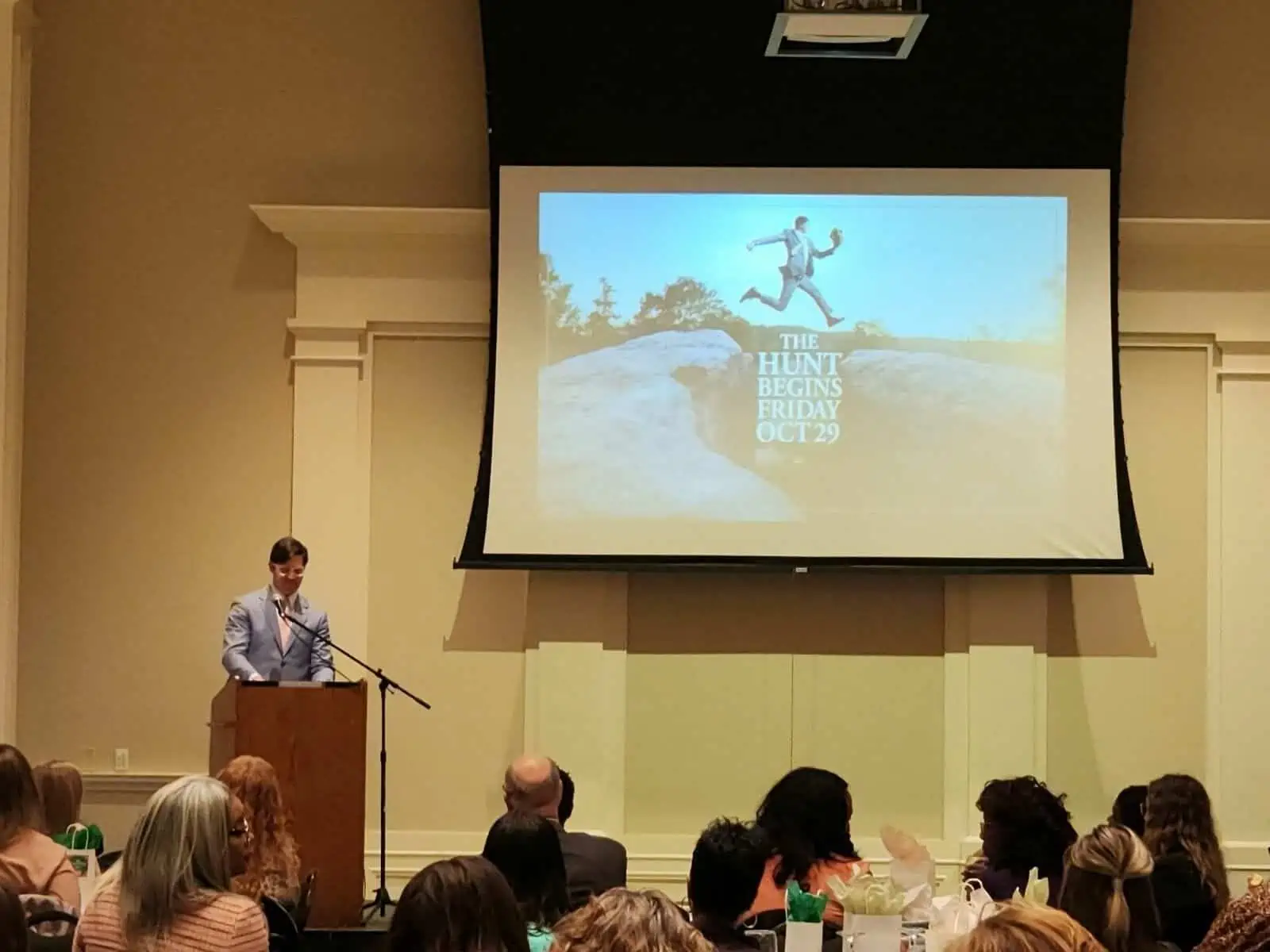 Over those six years, 9,000 people have participated. There is a Facebook support group page with nearly 6,000 members. Thompson said he never expected that level of engagement and participation.
"And we didn't know it would last this long. I mean, it was kind of one of those things that you get a feel once it's ready to go, you just let it go. It's grown every year," he said.
For nearly an hour, he entertained and challenged the crowd with the stories that formed the clues over the first six seasons.
Thompson hoped his audience would think about the searches in their lives, what they expect, and what they sometimes learn instead.
"A lot of times what we search for as a treasure or something we get excited about isn't always what we find. And sometimes the things that we find are much more special in the end. You know, these stories and the impact that I've been witness to is way more valuable than the marketing venture that happened in the beginning," said Thompson.
The Green Box Giveaway is at: www.greenboxgiveaway.com
The Facebook support group page is at: