Frank Berry and his 23 year-old daughter, Ajia, operate the Franny's Farmacy store in Evans. (Photo: Melissa Gordon)
A retired military veteran has found purpose as he navigates medical and emotional challenges after his time serving America at home and overseas. Now, Franklin Berry (he prefers "Frank"), the newest franchisee for the Franny's Farmacy brand, wants to use his store to share the benefits of cannabidiol (CBD) with anyone curious about the health benefits of the cannabis plant.
"CBD helps me on a personal level," Berry said. "I live with anxiety every day, and the CBD helps me balance out and function through the day. It also helps me with sleep some nights when it is hard to turn my mind off and focus on rest."
While he has only been in business since November 2020, Frank started doing research months before opening the Franny's Farmacy in the Riverwood Town Center shopping center. It was during his time in the military when he first learned about CBD and its benefits for him.
While restrictions due to the armed forces prevented him from experimenting then, it was a different story once he retired.
Berry's first exposure to how CBD affected him happened during a visit to a CBD store in Athens, Georgia.
"I wanted to see how it could benefit me, so I purchased a pack of gummies and tried a couple," Berry said. "And, it helped me. I could feel the difference. I thought this would be worth trying to share with other people."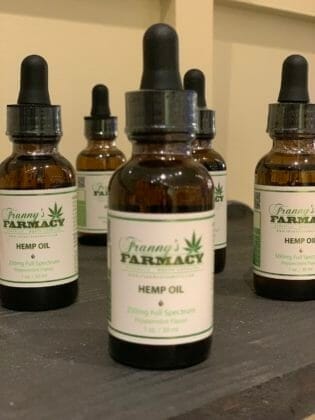 While Berry's first business venture after retirement, a restaurant, did not work out, it led him to the Franny's Farmacy company.
"One of my friends I was talking to about the restaurant business made the connection for me and led to Franny and her philosophy around CBD and the cannabis plant," Berry said.
According to the Franny's Farmacy website, Franny opened her first Franny's Farmacy Dispensary in downtown Asheville, North Carolina, in 2018. The move came about a year after she transitioned her traditional farming venture into a CBD farm by planting hemp varieties for food and fiber. Rather than using "CBD isolate" (AKA, a single cannabinoid), Franny's Farmacy products provide exposure to an array of cannabinoids, creating a more pleasurable experience known as the entourage effect for customers.
After learning about Franny and her mission to bring a reputable CBD supplier to customers, Berry went to the two people he trusts most when it comes to big life decisions – his wife and his best friend.
"They have always served as my sounding boards when I am working through big life decisions," he said.
While Berry admits they were both lukewarm on his decision to pursue starting a restaurant, it was a different story when he mentioned building a CBD franchise.
"I couldn't even get the idea out of my mouth before they were both giving me their blessing," he said.
With enthusiasm behind this new venture, Berry started researching the perfect place to set up shop. While he toured 20 different locations, Berry settled on the storefront next to the Publix store.
"Being an entrepreneur and starting my own business allowed me to set a schedule that allows me to be available for events or emergencies at school," Berry said. "When I worked at Fort Gordon, I didn't always have those opportunities so it fell on my wife to be there when our children needed a parent."
Several of Frank's daughters work at the store, including his manager.
Before his time in the military, Berry worked as a salesman selling everything from coupons to replacement windows. This experience reminded him just how important it was to be educated about the products you're trying to sell and how those products can benefit the buyer. So, before he opened his doors, Berry attended Trichome Institute.
"I compare it to the training people undergo to be a wine sommelier, which are people who are a wine waiter or steward; a trained and knowledgeable professional providing the service of wines, usually in a restaurant setting," Berry said. "Trichome's leadership has a passion and a mission to build CBD store owners and others who share that specialized knowledge about the cannabis plant and the health benefits of CBD."
All of Berry's certifications from Trichome are proudly displayed behind the counter because he wants people to know this is a serious business venture for him. While there are a lot of CBD stores popping up across Augusta's River Region, Berry wants his customers to know he is building a legitimate brand.
"We have two types of customers who walk through our door," Berry said. "One type is curious about CBD and how it can help their back pain, leg pain, anxiety, or some other medical issue. The second type is the kind of person who has done their research on CBD and wants to know just how much research the store owner has done for him or herself. I'm happy to report that those types of customers are proud of the amount of research I did. It's that research that I am willing to share with every customer who walks into my Franny's Farmacy store."
"There is a lot of stigma around CBD," he said. "I want to build a store and a brand that answers all questions, offers a lot of truth, and brings the community together to show them just how many ailments CBD can offer relief from. I want to end the stigma one customer, one event, at a time. So, stay tuned for what the future will hold."
For now, if you would like to learn more about Franny, her business franchise, and all of the information Berry has access to, visit the store at 5121 Washington Road, Suite 1. Or, you can call (706) 426-0828.