Dr. Rick Franza, Dean of the Hull College of Business, discusses a different, timely business topic each Monday in this column. This week, he discusses unique ways Augusta University students interact with local businesses. The interview has been edited for clarity and impact.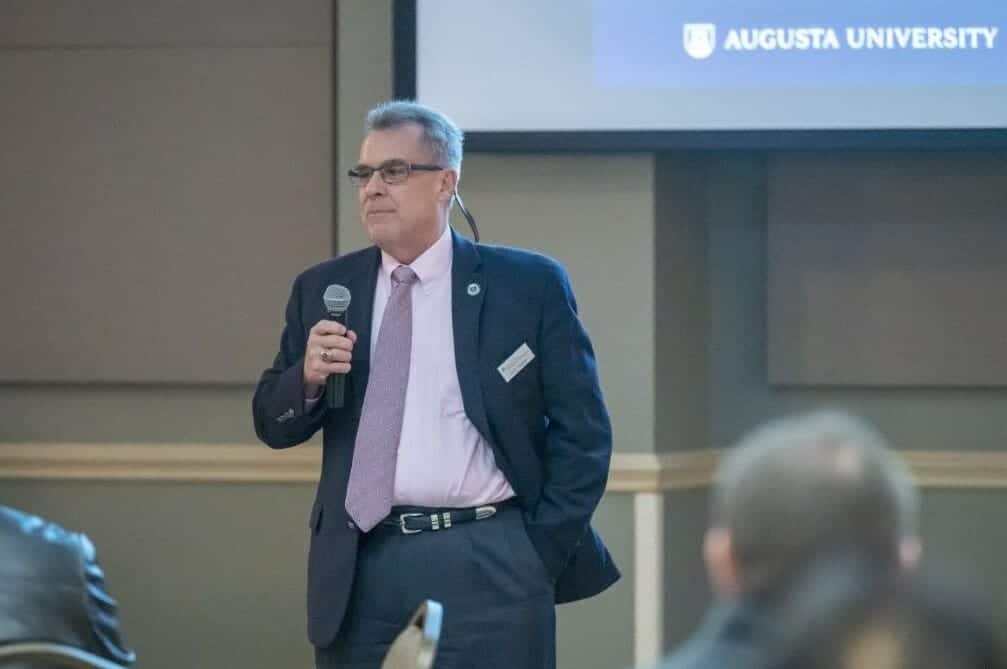 ABD: You recently were involved in two events that brought Hull College students in contact with the "real world" of local businesses. Tell us about the first one.
Rick: The first one involved the Jessye Norman School of the Arts. They held a Shark Tank-type contest – called J-Tank – for students and their families. Those with ideas deemed good enough were given funds and assigned a coach. I was a coach for a young woman, Alexis Galloway, who runs an online embroidery academy called Sew Sweet Academy.
She has a good business mind, good instincts, and a lot of what I was trying to do was basic financial advice. I felt she needed to increase her marketing abilities, but I felt out of my depth with that one. So I asked one of our professors, Dr. Manisha Mathur if her class on social media and digital marketing could help because she had done something similar before.
Her class of undergraduates came up with ideas for using digital and social media to help develop her advertising presence. Alexis is very happy with what she's seen so far.
ABD: The other event has been ongoing with MBA graduate students. How does that one work?
Rick: This is offered twice a year, in the spring and summer semesters with Dr. Jim Grayson, called a process improvement project. There are six groups of four or five students each and they choose a local company where one of the students works. They then pick a process at that company that doesn't appear to be working well, analyze the process and make recommendations.
I was one of the judges. We provide feedback and then the students pitch their analysis to the companies. This semester we had a manufacturing company, a restaurant, a retail footwear store, a university department, a city government department, and the dental college whose processes were analyzed.
ABD: How does this benefit local companies?
Rick: This is usually something that is a real issue for a company, but they don't have time to work on it because they're busy doing their jobs. It's free labor for them, although they have to invest the time to educate the students on the process and how it works. Often this helps them with lower costs, higher quality, more revenue, and meeting customer demand – whatever the main problem was the students worked on. Having an outside set of eyes looking at the company is always a positive.
And it helps some of the companies identify potential employees.
ABD: What is the benefit for your students?
Rick: It helps them put into practice what they're learning. They're much more motivated to put what they learn to work. The relevance of what they're learning in the classroom strikes them. What's out there in the real world is reinforcing what they're learning in the classroom. That's also why we like to have practitioners teaching in the classroom.
ABD: It sounds like this is a win-win for Augusta University and the local business community.
Rick: It allows us to contribute to the business community, it makes us better known, it gets students known to the employers and hopefully it helps improve their businesses.
ABD: Can businesses request to take part in what you have to offer?
Rick: Yes, if a business has things they think we can work on, we're open to that. They can contact me at [email protected].