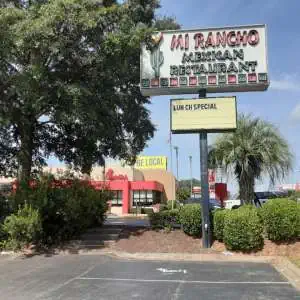 Evan Luda lives off Fury's Ferry Road in Martinez and is excited at the prospect of a local Mexican restaurant relocating to that area.
ABD has learned the rumors are true—Mi Rancho Mexican Restaurant – located at 3064 Washington Road next to Chick-fil-A – will soon relocate to 407 Furys Ferry Road in Furys Ferry Plaza – the former home of St. Louis Original Hamburgers. The burger restaurant has been closed, and the building has remained vacant since 2014. A construction worker at that site stated Mi Rancho will move there as soon as next month, but employees at the Washington Road location were tight lipped about the move.
The relocation, which is occurring because Chick-fil-A plans to expand its Washington Road location, is exciting for Luda because there are few restaurant options near his home in the Watervale neighborhood. "I could ride my golf cart there," he says. "It will be interesting to see how it competes with Poblano's." Poblano's Mexican Grill is located at 341 Baston Road at the intersection with Furys Ferry Road, which means it will be about half a mile from the new Mi Rancho location.
Luda hopes more restaurants will open in that area. "More and more people are moving into the area," he states. Unlike Luda, Allen Childs wasn't nearly as excited as Luda to hear about another Mexican restaurant opening on Furys Ferry Road. "There would be two Mexican restaurants right across the street from each other," says Childs, who lives in the Wexford neighborhood across the street from the plaza. He would prefer to see another type of restaurant move into that building. Like Childs, Luda would also like to have a variety of nearby restaurants. "Sometimes we get a little tired of Mexican, McDonald's, and French Market Grille West," he adds.
Mi Rancho can be found throughout the CSRA with locations in downtown Augusta, Evans, Grovetown, Clearwater, and Aiken.