Editor's Note: Wes Hennings never met a meal he walked away from and is an opinionated eater! Each Monday he shares the results of a business lunch he's had with a colleague as a way to advise our business community on the good, bad and the tasty across the CSRA. He doesn't let ABD or the restaurant know where he is going and his opinions are his own. He grades the restaurants he visits on a 1-5 scale with "5" being outstanding. We call this our "Real Business Lunch Review".
Food Quality: 3
Service: 4
Business Meeting: 4
Value: 4
Average Score: 3.75
Today's TexMex joint is one that started off with a bang, in one of the CSRA's biggest developments in recent memory, and sadly has fallen right back with the pack. Rio Cantina has the potential to be a standout joint with Latin flavor, but these days is simply what you'll find on any other street corner in town.
With our domicile on the South Carolina side of the river, we were surely excited about Mexican food in the incredible SRP Park complex when it opened, and the first few times we visited, it really did seem like this had the potential to be one of the best places for tacos, burritos, and quesadillas in the area. Food was fresh, service was snappy and friendly, and it was just fun to eat right beside the new Green jackets stadium. Then slowly but surely, as the new wore off, so did the reasons to pay a little extra and fight the North Augusta riverside parking.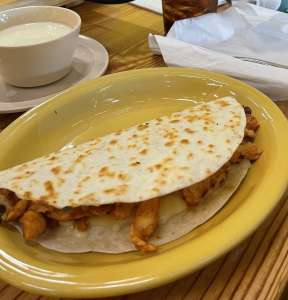 On this visit, we snagged one of the few tables with true ballpark views. The plate glass windows give you a view of the ball field from almost the entire restaurant, but a few tables make you feel like you're right behind home plate. On this visit, we started with some cheese dip (because of course) and ordered up a quesadilla and steak fajitas.
While you do have a couple spice options in the free salsa, the chips were a bit lacking – a little too thick and slightly overcooked. Full transparency, I basically judge any Mexican restaurant on chip quality, because it truly sets the tone for everything ahead. Honestly, there's only so much else you can do with tortillas, meat and cheese.
The rest of the meal was fine. The steak was flavorful, veggies grilled nicely, and the cheese dip is what you'd expect. But in this setting, it feels like the food should be elevated a bit more, and this was a meal that I could have eaten at any of the everyday names you all know around town. So why break out my high school parallel parking skills and pay to leave my car on the street when I could really visit almost any strip mall across town for the same experience.
So Rio Cantina is definitely a lunch option, especially if you're downtown and want to literally cross the border for a meal. You'll have a perfectly fine meal and good space to chat with a neat view. But if you want something more than your TexMex meal in the 'burbs, sadly this is no longer the spot.
Rio Cantina @ SRP Park
187 Railroad Ave
North Augusta, SC 29841