You'll have about a week to get in your application to promote your business at a downtown expo for a good cause.
This fall, with help from several local businesses, a downtown fair will give the community the opportunity to shop for handmade goods and support a worthy cause.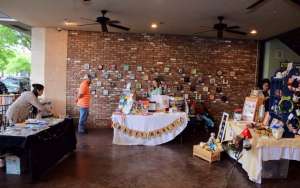 The Augusta Handmade Fair – a semiannual fundraiser coordinated by Redemption Church located at 930 Broad St. – will be held Friday, Nov. 5 from 5 p.m. to 9 p.m. and Saturday, Nov. 6 from noon to 4 p.m. at the church. "This will be our first time having it on a Saturday," says Claire Riche, one of the fair's organizers and the pastor's wife. "I think that will be really popular as well." At the event, vendors from throughout the Southeast will sell various items, such as art, pottery, baked goods, and jewelry. The event is free to attend, and vendors pay fees to rent space at the fair. "100% of the vendor fees go to Sojourn Uganda" – a church in East Africa Redemption supports, explains Riche, who is the project manager for Alive Media – a web design and digital marketing company in Augusta. Vendors also have the option to donate a percentage of their proceeds to the fundraiser.
The application deadline for vendors is Aug. 15 at midnight. She states they typically receive over 100 applications for each event, and a steering committee selects 50-60 vendors to participate in the fair. "It can be hard to pare them down," Riche says. According to the Augusta Handmade Fair website, the committee looks for vendors with unique original items. They have already received over 60 applications for November's event, including 26 vendors who were selected for last year's fairs, which were canceled due to COVID-19. She states many applications are submitted just before the deadline.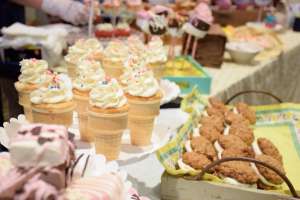 In-kind sponsors for the fair include Mod Ink, New Moon Café, The Book Tavern, and Rex Property & Land LLC. Mod Ink creates T-shirts and designs posters for the event. Both New Moon and The Book Tavern allow the fair to occupy space in front of their businesses, while Rex grants them permission to use the lobby of the JB Whites Building. Riche says the list of paid sponsors for the event hasn't been finalized yet. Shoppers will be able to visit both indoor and outdoor vendors.
The fair, which was first held in 2015, normally takes place the first Friday in both May and November. Due to the pandemic, three events were canceled, including the one scheduled for May 2021. "The last time we had the fair was fall 2019," Riche adds. She says they typically have a large turnout at the fair, but "We've never been able to track it."
For more information or to apply to be a vendor, visit augustahandmadefair.com/apply. Information can also be found on the fair's Facebook and Instagram pages. To become a sponsor, email [email protected].