She's got to be in the right place!
She's a physical therapist with a specialty in the golf swing in the Augusta, Ga., Aiken, S.C., area.
Most of my golfing buddies know they need therapy for their golf game, but they look for it on the 19th hole! It's not there.
But it can be found at PerformanceAbove, Aiken's only golf performance physical therapy clinic at Houndslake Wellness Associates at 920 Houndslake Drive, a grouping of six wellness and therapy practices in an office building just to the left of the Houndslake C.C. practice range. PerformanceAbove is the practice of Hetal Acharekar, Aiken's only golf performance specialist and physical therapist with a focus on 3D Biomechanics.
(It's a little tricky here; Hetel's practice is next to the practice tee at Houndslake and rents her office and therapy room on the club grounds, but her practice is affiliated with Cedar Creek G.C.)
Hetel and Kenny Evenson, resident teaching pro at Cedar Creek G.C. and Aiken Golf Club make it work out for their members and each other's private clients using her office therapy room for measurements, assessments and therapy exercises and Cedar Creek's outdoor facilities when needed. (See photo above of Cedar Creek CC)
It's not a business partnership but the very popular Evenson is her golf professional, and she is his golf therapist.
Evenson is quoted in her promotional materials saying "after one assessment I could see what my weaknesses were in my body and my golf swing. I learned my hip turn had to be worked on and also my flexibility and balance. Since then, with the training and the exercises she showed me, I have seen a huge improvement in my ball striking and power."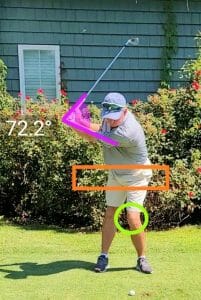 Having been a certified physical therapist for many years, Hetel said last week, "I fell in love with golf about three years ago. Golf is like a game of life. You have great exaltation at times and then you can't understand how it all went wrong!"
"As soon as I began playing, I wanted to combine my profession as a physical therapist with the game of golf and I soon found that they have applications throughout life, like a course on life."
She said she soon found a scientific assessment that combined an assessment of the individual human body of her clients with a parallel assessment of their golf game.
"It is research based and proven and based on your whole body," she began to explain in her office. "The assessment starts by taking extensive measurements, more than a hundred, of your personal mobility, strength, speed and your agility or flexibility."
Each measurement is then evaluated in relationship to the other measurements which all change with the results of the therapy, multiplying the possible combinations by the thousands.
"You measure the athlete as a whole, all of their muscle and nerve and bone systems. You are an athlete if you play a game, and the assessment will give you a baseline of the condition of your whole body. Now, a competitive athlete needs much more testing because success to them comes in smaller improvements. But for most people, we just want to play better, everybody wants to hit the ball farther and those things will make it more fun, which is what most of us measure our success by."
"When coach Kenny said he learned that he needed more turn in his hips, well, when he turns his hips more, that will change the way his shoulders and knees and ankles move. We have to assess and then work on the body as a whole, of course, with an emphasis on any weaknesses we identify."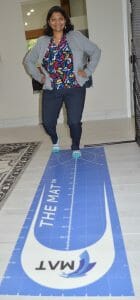 Ms. Acharekar didn't just show up and start telling golfers to get in shape. She arrives with the credibility that years of therapeutic experience and study provide her. She holds a Masters in Physical Therapy (MPT), Certification in Allied Functional Science (CAFS), Certification in 3-Dimensional Movement Analysis and Performance System (3DMAPS) and Movement Assessment Tool (MAT Level 2) Certified.
"Every client, every golfer is different. There is no typical need. You are your own DNA. You are the only one who sits just the way you sit. You are the only one who walks just the way you walk and your certainly are the only one who plays golf just the way you play golf.
"Once again, golf is like a game of life. Once we improve your strength, agility. mobility and coordination for your golf swing, those things will improve your life throughout the rest of your day." She says that just like you love the feeling of hitting that perfect drive, or even two or three "just right" shots in a row. The same person will get a piece of that feeling just taking a walk, crossing a street, catching a ball, or maybe even dancing for a change.
The assessment, which generally takes about an hour and twenty minutes, is the key to the program. Then therapist and student sit together and lay out a plan that typically means eight focused weekly therapy sessions.
She says that before the eight weeks are up many of her clients have already called Kenny so he can put their new skill level into action or called other golf pros in the area.
She says the best part usually happens several weeks later when she sees a former client and they are happy to tell her that, "it's fun to play golf again!"
She says that's the reason she started the business.
Hetal Acharekar
Houndslake Wellness Associates at 920 Houndslake Drive, Aiken.
PerformanceAbove
(803) 716-8750
https://www.performanceabove.com/