Caroline Ashe (far right) enjoys helping young women better themselves both personally and professionally.
Ashe – Sales and Marketing Director for Ivey Homes – serves as one of five mentors for Young Women on the Way – a program created by the Columbia County Chamber of Commerce for professionals between the ages of 23 and 30. "For us business leaders, it's great to have a connection with that generation," she says. "It's very worthy to give back." Founded in 2015, the program is currently accepting applications for the Class of 2022. Ashe explains they typically receive 22-25 applications each year, and about 20 of those are selected to participate in the 10-month program. The application deadline has been extended from Friday, Nov. 16 to Tuesday, Dec. 21. To be selected, "You just have to have commitment from your employer," says Taylor Williams, the Chamber's director of programs and events. Also, only one representative from a company is allowed to participate. The tuition is $395, but many companies cover that cost for their employees.
Ashe states they also select applicants based on what they want to gain from Young Women on the Way. Participants meet monthly at a luncheon at the Chamber office in Evans, where they discuss various topics, such as work-life balance, business attire, and meeting etiquette. The first meeting for the new class will be held on Tuesday, Jan. 18, 2022, and the final meeting will be on Nov. 15. All participants are expected to attend these meetings, and anyone who misses two meetings will be withdrawn from the program. "We're pretty strict with that," she says. Williams states they're also required to complete an average of five volunteer hours throughout the program, but that number varies. "If you didn't grow up volunteering, it's a good exposure to that," Ashe adds.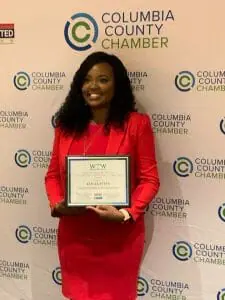 She says participants often find the program to be very rewarding. "It gives them an instant networking group," Ashe explains. "A lot of them stay in contact with their mentors long after the program is over." Alicia Fitts – one of the program's graduates – says participating in Young Women on the Way has helped her more than she ever expected. "The mentorship and guidance I received has been very pivotal in my career," says Fitts, associate vice president for business development and community relations with Peach State Federal Credit Union. "I was always inspired by the diverse group of women in our class and reveled in witnessing their professional success stories as well."
The Chamber offers a similar program designed for male professionals called Young Men on the Move, which was founded in 2019. Robert Kelly – Vice President of Augusta Staffing Associates – was one of the program's mentors for three years. Kelly says like the women's program, men must be between the ages of 23 and 30 to participate. "We do require that same commitment," he states. Participants meet monthly to cover a variety of topics, such as networking, customer service, and even how to shake hands properly. "The number one benefit is the camaraderie," Kelly explains. Program graduates often meet for breakfast or lunch. "They seek each other out at events," he says.
But the participants aren't the only ones who benefit from the program. "Everything we do benefits where they work," Kelly explains. "You really see them come out of their shell." A few employers have told him they noticed positive changes in their employees who participated. Kelly also learned from the participants. "I'm stretched just as much as they are," he adds.
The deadline for Young Men on the Move applications is Friday, Jan. 21, and the first meeting will be held Feb. 23. "Not only are we looking to find participants, we want to talk to future mentors," Kelly states.
Tripp Calloway – one of the program's first graduates – says it helped him in many ways. "As a young professional in the Columbia County business community, I gained new connections to people who are close to my age," says Calloway, director of marketing for ACHS Insurance in Evans. "For professional development, I gained a lot of information on time management skills, how to present yourself in a professional setting, and how to dress like a professional."
For more information or to submit an application for Young Women on the Way, visit https://www.columbiacountychamber.com/Young-Women-on-the-Way. Those interested in applying for Young Men on the Move can visit https://www.columbiacountychamber.com/Young-Men-on-the-Move.