Editor's Note:
Wes Hennings never met a meal he walked away from and is an opinionated eater! Each Thursday, he shares the results of a business lunch he's had with a colleague as a way to advise our business community on the good, bad, and the tasty across the CSRA. He doesn't let ABD or the restaurant know where he is going and his opinions are his own. He grades the restaurants he visits on a 1-5 scale with "5" being outstanding. We call this our "Real Business Lunch Review".
Food Quality: 5
Service: 4
Business Meeting: 3
Value: 4
Average Score: 4 out of 5
This is just a trend that I haven't jumped onto yet. But it seems to me that Poke places are popping up pretty much everywhere. Maybe it's because I always read the word as poke (like a poke in the eye), instead of poke-ee, as in Gumby's sidekick. Whatever it is, I have thus far avoided the strip mall staple that is the poke bowl. That is, until now.
I found myself at lunch near the Regal Cinemas in the Augusta Exchange (which I have to admit is a theater that is looking fairly beleaguered these days). Across the street from the theater, snuggled between Roma's Pizza, Barberito's, and a nail salon, is a quiet little poke place called Hello Poke. Some of the other spots I've seen around town look a bit more upscale, but I decided this would do for my inaugural poke bowl.
I assumed that the bowls were all sushi adjacent, but learned today that you are just as likely to find cooked meats like chicken and shrimp mixed in as you are raw fish. However, I decided I wanted a more traditional experience and opted for the Tuna Wasabi bowl. And I have to say, I am now fully onboard as a card-carrying poke proponent.
Regular readers know I enjoy a hearty lunch. Give me steak, potatoes, or soup any day. Lighter fare is not generally what I seek out for my noon meal. But this bowl of rice, edamame, cucumbers, carrots, and a heaping helping of tuna were just what I've been looking for, in terms of the days when you need something a bit fresher. Plus, I was wary of the wasabi, but it packed just the right amount of kick to add flavor instead of an overwhelming heat. And if you wanted something warm as an accompaniment, the cheesesteak egg rolls and fried dumplings also looked pretty tasty.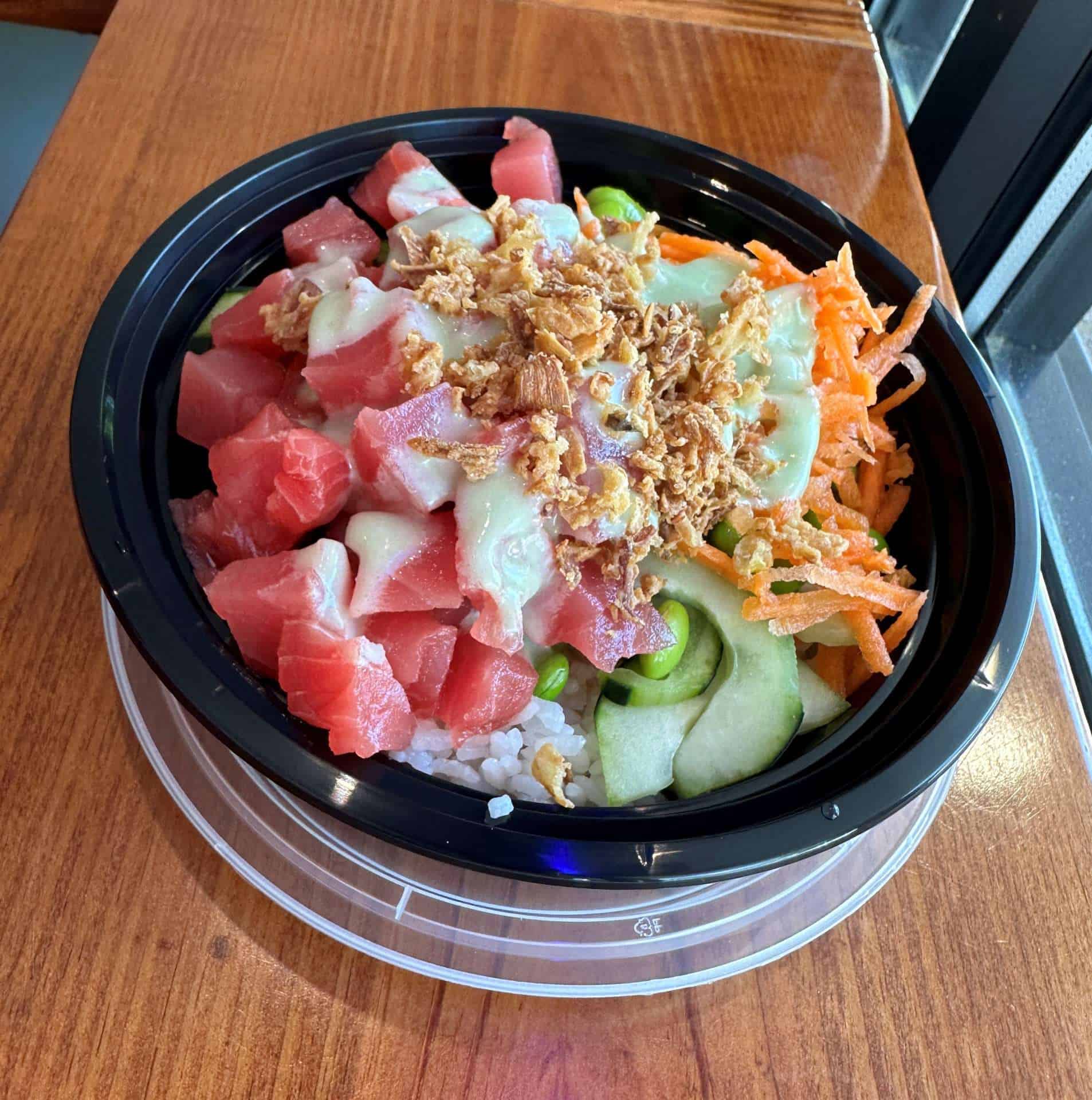 This is not one of those places where you'd ever want to take a group and dine. In fact, there are barely enough two-top tables for this to be much more than a carryout-only establishment. But the service was quick and casual, with a price that matches most places around town, especially considering that quality sushi ingredients are not often on the low end of the price spectrum.
Chances are I'll be saying hello to another poke bowl soon enough, and if you're looking for a fresh lunch on the run that's out of the normal sandwich and burrito stops, you may want to consider this new trend in the Augusta food space as well.
Hello Poke
1141 Agerton Ln
hellopokebowl.com