Keosha Parris launched Picnic N Parris – a luxury pop-up picnic business – on Saturday, June 19.
Keosha Parris has started a business that's the first of its kind in the CSRA.
Parris – owner of Picnic N Parris – offers clients a luxury pop-up picnic experience. She officially launched her business, which provides elegant picnics for various occasions, including dates, anniversaries, birthdays, and baby showers, on Saturday, June 19. "I just moved here in Sept. 2020, but there wasn't much opportunity to explore" because of COVID, says the military spouse and St. Petersburg, Florida native. Parris wanted to give people the opportunity to enjoy "intimate moments outside instead of having to go into a place," she explains. Before starting her business, Parris discovered similar businesses in major cities throughout the Southeast, including Charlotte and Atlanta.
Each picnic lasts two hours and packages range in price from $75 for a traditional picnic with two to four guests to $325 for the Grandeur Experience. In the future, Parris says she would like to allow customers to pay for an additional hour. "For starters, I wanted to keep it uniform across the board," Parris states. She provides everything for the picnic, except food, but she would eventually like to add that to her packages. Parris says she plans to add an engagement package, which will include food and drinks. "I've partnered with a violinist," she says.
All packages include elegant picnic items, such as flatware, wine glasses, a flower arrangement, a Bluetooth speaker, and a complimentary picture. Parris handles all the setup and breakdown for picnics. Just "Provide your own food and enjoy," she states. Parris also offers add-on services, such as professional photography from Georgia Family Photography and C. Wallis Photography and food from local chefs and caterers, including Sweet & Sassy Apron in Augusta and Taste of Chuck's in Aiken. She plans to host picnics in various local parks or custom locations, such as a client's home.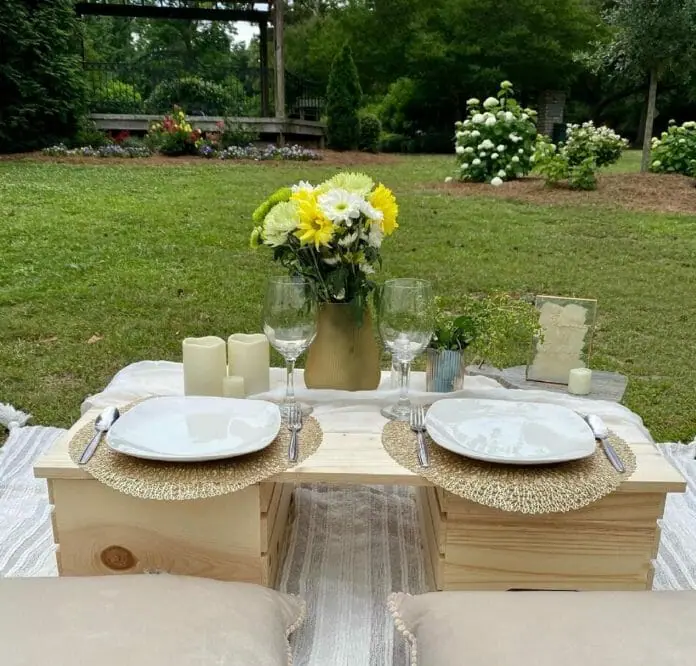 Parris says it won't be a seasonal business. "This will be a year-round venture because we can have picnics anywhere," she adds. Parris hopes the holidays and Valentine's Day will be busy for Picnic N Parris. "I have high hopes, so I believe it will be big," Parris states. For now, she will do all the work herself, but "Hopefully with growth, I'll be able to hire help," she says.
Parris explains she was nervous about starting the business, so she made sure to prepare herself. "I've done a ton of mock picnics," Parris adds. "I want people to receive it the way I envision it." She believes her creativity will make her a success in business. "I've been a makeup artist for a very long time," Parris says. "I believe in myself."
For more information or to book a picnic, visit picnicnparris.squarespace.com or contact her on the Picnic N Parris Instagram page.