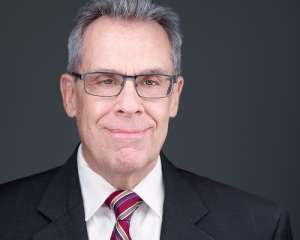 Dr. Rick Franza, Professor of Management at the Hull College of Business, discusses a different, timely business topic each Monday in this column. This week, he investigates the cryptocurrency issue and how it might affect businesses. The interview has been edited for clarity and impact.
ABD: We're hearing a lot about digital currency, or cryptocurrency as it's often called. Some businesses already accept digital payments but that's not the same as digital currency. What's the difference between digital payments and digital currency?
Rick: There's a significant difference and it's important to have clarity on that. Everything today is done through digital payments – even us, old people are paying most of our bills online. But that's done in U.S. dollars. It's a digital transfer between accounts.

While digital currency can be used for digital transactions, it's not in the form of traditional currency. It doesn't exist in physical form. The currency is more virtual than real and is completely digital. It's run by blockchain-type technology and is decentralized. The government has no control over it.
It is also used for investment purposes, and different currencies have different investment values. The most well-known is Bitcoin and (last Friday) was valued at $29,243 U.S. dollars.
ABD: What are some of the advantages and disadvantages of digital currency?
Rick: The advantage is that it is cheaper and faster to use in transactions because everything is digital. The biggest disadvantage is the volatility – it raises the question, What is it worth? And it can only be used if a business accepts it as payment.
ABD: There's talk right now, especially in some European countries but also here in the United States, about developing a Central Bank Digital Currency (CBDC). Do you think the use of digital currency will become more commonplace?
Rick: Right now, there isn't a great understanding and trust in digital currency. People are concerned about hackers and the lack of being able to get their hands on money. And the volatility of its value.
The use of any currency is based on the confidence of the user. A CBDC would have to demonstrate that all the things people don't trust about digital currency have been resolved. The keyword is that it will have to evolve, rather than just flip a switch to change it. It will take a while to educate people on it. The underpinning of a country is having a currency they can trust.
ABD: Would accepting digital currency be an advantage for a business?
Rick: What I deal with is improving processes and if you transfer things digitally that usually improves the process. It happens more quickly and with less error. Transferring U.S. dollars digitally has improved business.
There are businesses already that do point-of-sale digital transactions. I'm not sure how cryptocurrency would change that – I'm not sure it would. We all went pretty quickly from writing checks to paying online. Now, at some restaurants, for example, you don't have to hand in a credit card and wait for the waiter to bring it back, you can do it on your phone. But we all understand what that will buy, but the value of the digital currency will have to be demonstrated.
I think it would be a net positive for a business because it seems like it can be very secure, and the things that are most important are security and efficiency of payment. What's going to determine its worth, that'll be the open question. The important thing to a business is predictability. If you're not sure of the cost, then you're adding one more bit of uncertainty.
ABD: One of the concerns about a CBDC is that it gives the government more control over people's money. Is that a valid concern?
Rick: This isn't my area of expertise, but what I think the big question is: How do you find the right amount of regulation? The FTX crypto investment fiasco showed the need for more government regulation, and we want currency we can trust. But tighter regulation might reduce our privacy. What happens if the regulation is so tight that the government controls when and how we spend our money?
Part of that will be driven by the party in power. The analogy I can make is with electric vehicles. Both the Democrats and Republicans think that's a good idea, but the rate of adoption and the amount of government control they want are different.
ABD: It sounds like the use of digital currency isn't something we'll see in the near future.
Rick: Certainly, there are people who will be early adopters of cryptocurrency, but that's a very small group and mostly they got into it for investment purposes. We typically have bad imaginations and we don't realize the value of it yet.