A $150,000 grant has opened the door for changes to seating capacity at the Sharon Jones Amphitheater in North Augusta.
The grant is through the Undiscovered South Carolina program in the state's Parks, Recreation, and Tourism department. Karl Waldhaur, superintendent of Facilities and Programs in the North Augusta Parks, Recreation, and Tourism Department briefed council members during the April 10 study session.
"The purpose is to highlight places in South Carolina that have less than $900,000 of accommodations tax revenue," Waldhaur explained. "So, the purpose is to kind of highlight places in the state outside of your heavy tourism markets like Hilton Head, Myrtle Beach, and Greenville, to get folks out in the state and to show them undiscovered South Carolina."
Currently, the amphitheater can seat about 800 people in two sections. There is a third section, but it is a green space, with shrubbery and a tree. It was discovered the tree was diseased and was recently removed. The recommendation is to remove the shrubbery and create a third section of seating. Once the center section is converted, it will provide at least an additional 350 seats.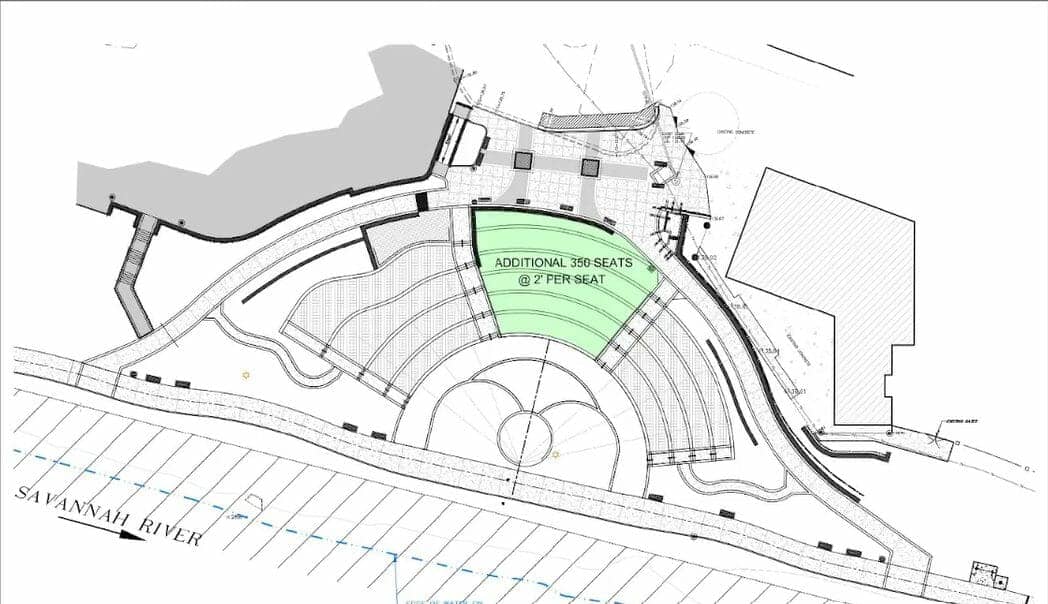 Councilman, Eric Presnell thinks it's a good plan. "I'm for it. I've had several people call me and say, 'That's the best seat in the house,' he told fellow council members.
Presnell also pointed to another project the city has planned near the amphitheater. In early 2022, the council approved a plan to seek grant money for a building near the venue. It would have restrooms and a dressing room that performing acts could use. Although the grant money must be kept separate and only used for the designated project, the city will be able to bundle the building and seating into one contract with the hope of attracting more contractors.
The $150,000 grant required a 50/50 match from the city. Assistant City Administrator, Rachelle Moody told council members that local funding is available. The council is anticipated to vote on the resolution at their April 24 regular meeting.
Council members also got an update from Marketing and Tourism Coordinator, Randy DuTeau.
He said PRT has expanded its social media footprint. In addition to the city's Facebook page, there is a PRT Instagram page. Now, they have launched a Visit North Augusta Instagram page, tied to the city's new tourism website https://visitnorthaugustasc.com/.
DuTeau said they are creating brochures to distribute to South Carolina Welcome Centers and several Georgia Welcome Centers. They also just launched a digital campaign promoting tourism targeting areas within 200 miles of North Augusta.
North Augusta will again have a summer festival designed to draw people to the river. It started last year as Rockin' and Raftin'. It was the brainchild of Briton Williams. During a July 2021 council meeting, Williams said he never understood why North Augusta did not have an event to highlight the city's riverfront.
Citizens were asked to submit ideas for what they would like to see. A citizens advisory committee reviewed the suggestions and chose raft and kayak races, supported by activities along the riverbank and into Hammond's Ferry.
This year it will be a two-day event, starting on June 2, and it will have a new name, Down to the River and will include a concert by Christian artist, Jordan Feliz at the amphitheater.
"We'll have the one-mile race, we'll also have a bike ride and want to get as many people out for that as possible," DuTeau said. "Then, we'll have the concert Friday night. On Saturday, we're going to have an urban trail race, which is basically an on-road off-road race utilizing the Greeneway and a lot of the iconic spots in North Augusta. We'll have our outdoor recreation vendors again. And finally, we'll also have food trucks and beverage trucks."
DuTeau also briefed council members on a new event, A Taste of North Augusta, through a partnership with the North Augusta Chamber of Commerce and North Augusta Forward. It will run from April 20 through April 23. About 15 restaurants will be featured.