When someone decides to purchase a home, there are generally specific needs and principal requirements that narrow down the selection. One often underestimated element that holds the power to significantly impact property values and selection is school zoning. School choice and school ratings launch a profound influence on the lifestyle choice, purchase location and happiness of homeowners.
In the ever changing real estate market, the concept of school choice has developed into a compelling force. Homebuyers are no longer merely checking off the wish list, they're making choices that reflect their aspirations for education. The availability of diverse educational options that range from public schools to charters, private institutions and homeschooling should transform real estate transactions into thoughtful, future-oriented investments.

With or without children in a household, a residence situated within the bordering areas of a high-performing school becomes not only a wise home choice but an investment in a brighter future. This powerful incentive drives demand for homes in neighborhoods offering a spectrum of educational choices, thus enhancing property values in the process.
School ratings serve as the guiding stars for discerning home buyers seeking to make informed choices. These ratings provide a comprehensive overview of a school's academic performance, teacher quality, student engagement and overall environment, refining complex data into a understandable metric. These ratings are typically displayed directly alongside an online listing frame, or listed within the filter options when search parameters are set.
For families, school ratings are a measure of the quality of education living in that neighborhood can offer. High ratings affirm the commitment of a school to academic excellence, the parent involvement and development of its students. Prospective buyers, particularly those with school-aged children, are more likely to vie for properties within the boundaries of highly-rated schools, subsequently driving up demand and positively influencing property values.
The relationship between school choice, school ratings and real estate values creates a ripple effect that reverberates throughout communities. As more families flock to areas with reputable schools, the demand for housing escalates. This surge in demand often outpaces supply, leading to bidding wars and increased competition for available properties. In my field, I would say 90% of buyers have a school zone identified and will sacrifice their wants to move into their desired school zone. On the flip side, sellers are commonly moving to get into a better school district. The consequence? Elevated property values that reward homeowners and generate a cycle of growth.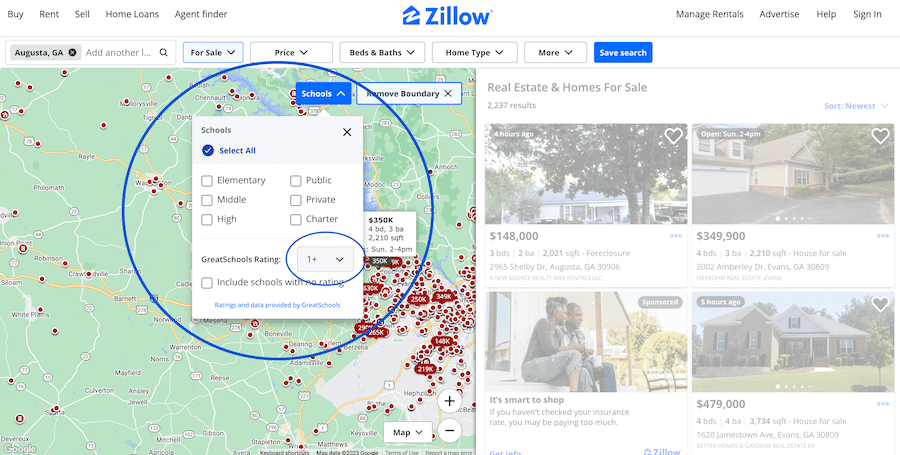 As a prospective homebuyer, the lessons are clear. Homes with specific desirable features have value, but the age old anecdote rings true, location is king in real estate. The website www.greatschools.org is a powerful resource for researching the school ratings nationwide. The flip side of this message would be that homes located within a zone that has poor scores will suffer, limiting the future buyer pool for the area.
Having the power to choose an educational pathway and the guidance of school ratings are game-changers in any real estate market. They have the potential to shape neighborhoods, transform communities and elevate real estate values, leaving a memorable mark on the landscape of homeownership. In the end, making an informed choice will lead to well-rounded students and prosperous communities that endure for generations.